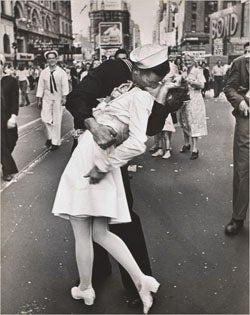 Apparently change came fast for plenty of opportunistic patriots last week — an unprecedented moment of national and romantic triumph! Like the sailor spontaneously sweeping a nurse into his arms in a symbolic burst of triumph on V-J Day, science teacher Jared Joiner tells the
Washington Post
's Monica Hesse that he was compelled to victorious face-sucking with a stranger. "It's like everybody felt they were automatically connected to everyone else. It felt like you were supposed to make out with someone when Obama won."Unbridled joy or opportunism? Probably a little of both. The
Post
mentions one shy-guy who mustered the courage to ask a stranger watching the election results, "Can I have a kiss? For Obama?" And shared optimism can hardly explain the rash of November 5th "Missed Connections" seeking to recapture the ephemeral magic of the night before the morning after. But whereas romantic ops may have been fleeting, the merch gravy train's just pulling into the station. Street vendors are selling more Obama tees, mugs, dolls, cards and pop art than ever. Obama web sites are booming, as people all over the world scramble onboard.
The Los Angeles Times
cites the multitude of Obama-themed books publishers are rushing through, including "The Obama Menu: Dinners With Barack Obama" and "Deciding the Next Decider: The 2008 Presidential Race in Rhyme." As one editor tells the
LAT
, "It's the biggest thing for publishing since Harry Potter." If likening the president-elect to a magical boy wizard seems both worrisome and significant, well, it makes sense: evoking middle-aged politicians doesn't normally get dorks laid. Whether this bonanza can keep up when the boring business of governing takes hold is an open question: economic policy doesn't make for great t-shirts or for much of an aphrodisiac. But people can take heart from one thing: Obama's already helping the economy, and, presumably, the population: how many baby Baracks will we be seeing come early July? (Well
Newsweek
's on that one!)
Remember Me? The One With the 'O' Button?
[Washington Post]
Americans clamoring for all things Obama
[Los Angeles Times]