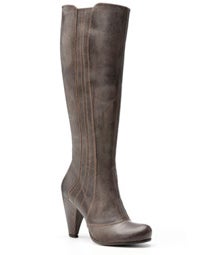 Behold:
A boot named Obama
. Manufactured by shoemaker
Coclico
, this piece of footwear is made from "gorgeous rich mottled gray leather." Mottled, hmm. Is that like biracial? Black and white
do
make gray. The boot also has a "high shaft." *Cough.* And "decorative tonal stitching curves along the height of the shaft."
Say shaft again.
The description also mentions the "snug fitting zipper shaft." Gah. Having the words "Obama" and "snug" and "zipper" and "shaft" in the same sentence just ain't right. [
BlackBook
,
Coclico
]