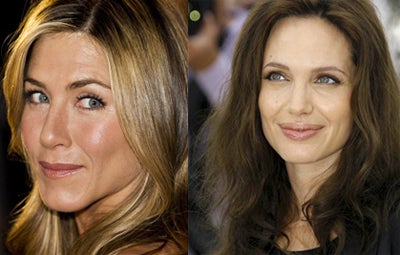 The Daily Mail alleges that the new issue of American Vogue includes an interview with Jennifer Aniston, in which she utters the words, "What Angelina did was very uncool." A "source" claims, "She's never been this honest or brave in an interview before. This certainly raises the bar on celebrity profiles. Jennifer opens up about her sex life, her career, and her feelings about life after her divorce. She must have had a lot on her mind, because she lets go on everything."Apparently the photo shoot features Aniston posing in designer swimsuits on the beach in Malibu, and "her body has never looked tighter or more fit." As for this quote about Angelina, the Daily Mail insists:
In an outburst that will lift the lid on their four-year feud, Miss Aniston icily told the publication: "What Angelina did was very uncool." The brief yet explosive comment marks the first occasion that the former Friends star has spoken out publicly about her love rival. It comes just a fortnight after Miss Jolie, 33, revealed that she and Pitt had 'fell in love' during the making of Mr and Mrs Smith in 2004, despite previously claiming their romance only started after filming. A source said: "This interview shows that Jennifer is no longer afraid of Angelina," adding: "It's hugely significant."
The paper also claims the "uncool" quote appears on the cover. Since the December issue has not yet hit stands, whether any of this is true remains to be seen. One thing is for sure: The Aniston vs. Jolie feud
will not die
. Raise your hand if you're sick of it.
EXCLUSIVE: 'What Angelina Did Was Very Uncool,' Says Jennifer Aniston As She Slams Love Rival In New Interview
[Daily Mail]