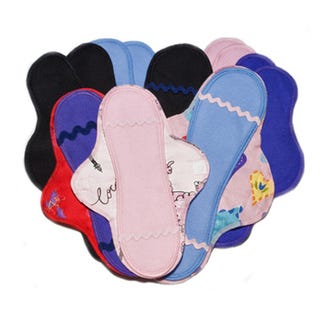 Environmental news blog Grist has a review of
eco-minded feminine products
. According to the story, the average woman will menstruate for about 40 years (ugh) and use about 16,800 sanitary pads or tampons, which is 250 to 300 pounds of waste. In the U.S., 12 billion pads and 7 billion tampons are disposed of annually. So what's a girl who cares about the environment but doesn't want blood-soaked jeans to do? Grist has some pad options (the tampon review is due next week) and things are pretty bleak:The good news? Seventh Generation chlorine-free "ultra thin" pads come in recyclable packaging and, according to Grist's Sarah van Schagen, have "tremendous" absorption power. But the Seventh Generation maxi pads? "Feel like a pillow in your drawers." The Natracare Curved regular pads don't come individually wrapped, which might be better for the planet, but wouldn't you have to carry the box or some kind of zip-lock bag in your purse? As for the Natracare Ultra Pads, they're "too short." Then there's GladRags organic cotton maxi pad and liner, which — bloody hell — you have to
soak and rinse
after using. But the funniest review is for the Lunapads organic cotton maxi pad and liner (pictured):
One reviewer dubbed her Lunapad the "Pussy Cushion" and noted that she developed a "camel foot" while wearing leggings and needed to adjust her chair and car mirrors due to the pad's added height.
See? Saving the planet can make you feel taller!
The Red Vadge Of Courage
[Grist]