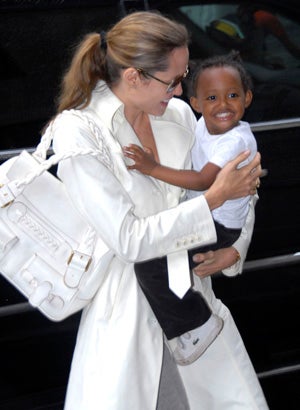 According to the most recent government statistics, 600,000 women are looking to adopt children to whom they are not related. 129,000 foster children are waiting to be adopted, and only 8,000 were adopted last year by parents to whom they had no prior relationship. In the Washington Post , adoption advocate Jeff Katz asks: what gives? Why are so many prospective parents being denied, when so many needy children remain?It's not international adoption, as only 19,000 foreign-born children are adopted each year, mostly because of the prohibitive cost. And it's not even the fact that some kinds of children are more "desirable" than others. 521,400 people said they were willing to adopt black children, compared to 41,591 black children in foster care; 351,600 people said they would adopt children between the ages of 6 and 12, compared to 46,136 children between those ages in foster care; 185,400 people said they would adopt children over the age of 13, compared to 30,654 teens in foster care. Katz believes the discrepancy is related to an entirely unwelcoming bureaucracy. Katz founded an organization called the Listening to Parents project, and he found that "Far too many agencies view their primary response in adoption as screening out 'bad' parents rather than recruiting good ones." For example:
Contrast two of the locations we studied for a 2005 report: In San Jose, everyone calling to inquire about adoption was invited to a meeting designed to inform prospective parents about the children available and to get parents into the training program. In Miami, everyone calling to inquire about adoption was required to fill out a two-page questionnaire, over the phone, that included sensitive personal and financial information. Those who "passed" the call were invited to an information meeting that began with an announcement that all attendees would be fingerprinted at the front of the room. Is it any wonder that a prospective parent in San Jose was 12 times more likely to adopt than a prospective parent in Miami?
In the U.K, non-traditional parents say they find judgment from
some social workers
who are still looking for the ideal heterosexual married couple as adoptive parents, the
Independent
reports. However, parents in the UK are less colorblind than those in the U.S. as adoption agents say they have difficulty placing black children, particularly black boys. According to family lawyer Nina Hansen, "As for black boys, the media really works against them; people believe the future will bring serious trouble with the police. It is much harder to place boys, especially those over five, but little black boys? Well, you can pretty much forget it."
Adoption's Numbers Mystery
[Washington Post]
Adoptive Parents Believe Boys Are 'Too Much Trouble'
[The Independent: UK]