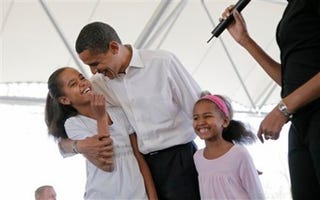 Not only did we elect a new President last week, but we elected a new First Family as well. In the few short days since their father's election, Sasha and Malia Obama have become the focus of worldwide attention, with the world demanding to know everything from the designers of their Election Night ensembles to the possible breed and name of their hard-earned First Puppy. Over the next four years, they will be watched and photographed and followed, with the rest of country aware of their every move. Children across the country will look to them with admiration and curiosity; they are, after all, the closest the United States has to real live princesses. The constant scrutiny may prove to bit a bit tough for the girls: as Douglas Wead, a Presidential historian,
tells
CNN: ""One of the negatives of the White House is that it's very much a fishbowl." So how will they handle the pressure? Perhaps they should follow the example of one of the most well-adjusted, intelligent First Kids in history: Chelsea Clinton.Entering the White House at the age of 12, Chelsea Victoria Clinton (Secret Service codename: Energy), was a bright, strong-minded little girl who just happened to be the daughter of the President. This, apparently, gave jerks across the country the notion that she was fair game for cruel jokes. Comedians, late-night hosts, and yes, even certain Senators from Arizona who just lost the election, took shots at Chelsea's awkward adolescent appearance, as if she were the only person on earth who didn't look like Christy Turlington at the age of 12. In keeping with his classy record, Rush Limbaugh
referred
to her as the "White House Dog." Chelsea braved the criticism and began to take a more public role, accompanying her mother, Hillary, on various diplomatic trips during her time as a student at the private Sidwell Friends School, where she excelled in her studies. The fishbowl scrutiny only got worse for Chelsea when the Lewinsky scandal broke and details of her father's sordid affair were splashed upon the front pages of every paper in the world, and yet still, she maintained a sense of grace and composure and continued to concentrate on her education, going on to obtain a Bachelor's degree in history from Stanford and later a Master's degree in International Relations from Oxford University. This is not to say that Chelsea did not suffer and struggle in private; but what we can say is this: Chelsea Clinton, through all of the painful mockery, all of the embarrassment, all of the scrutiny, grew up to be an accomplished woman with an impressive record. Yes, she had the best opportunities around, but she took them and took them as far as she could, working hard to escape the shadow of her parents and the shadow of the White House to become her own person. One hopes that the Obama girls won't have to go through what Chelsea went through; and that this time around, we won't allow it to. No child should be mocked, regardless of what his or her parents do for a living. Luckily, Sasha and Malia's parents are already taking steps to ensure that their time in the White House will be a happy one: a new puppy is on the way, and the President and First Lady-Elect have already started looking for schools. ""I'm a mother first," Michelle Obama
says
, "And I'm going to be at parent-teacher conferences, and ... I'm going to be at the things that they want me to attend. I'm not going to miss a ballet recital." So good luck, First Daughters. You have an interesting four years ahead. There will be ups and there will be downs, and we as a country will most likely see them all. But remember, there's always someone you can call for advice on living in the White House. Her codename is Energy, and she's a pretty amazing lady.
Obama's Girls About To Go Into The Fishbowl
[CNN]
16 Candles For Chelsea
[Washington Post]