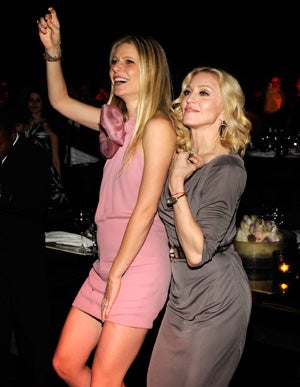 Yesterday the British tabs
claimed
that Madonna is "begging" best friend Gwyneth Paltrow to jettison Chris Martin and the Anglophile stick up her bum for the welcoming shores of Manhattan. You see, Madonna and Gwynnie became friends in the early aughts in London, when Madonna was just adopting that faux British accent. And now, Madge is clearly on the brink of yet another reinvention: she's ditched her Brit hubby and her
estate in the English Countryside
and is swapping it for her old gritty New York home and, well,
Alex Rodriguez
. Will Madonna and Gwyneth remain close when Madge stops wearing tweed and goes back to her cone bra? We examine the evidence, after the jump.Madonna and Gwyneth became friends in 1999, just around the time when Madge started dating Guy Ritchie, whom she met through Sting and his wife Trudie Styler. Their friendship started out randy, with this report from early 2000 in the
Vancouver Province
:
Some new late-breaking gossip from the wild scene at the Bar Room on New Year's Eve: The New York Post reports that, at around 4 a.m. Jan 1, Madonna and newfound soul mate Gwyneth Paltrow began necking like mad.
Not surprising, since Madge has a long history of "close" relationships with female friends like Sandra Bernhard and Ingrid Cesares. Then later in 2000, Gwyneth was a bridesmaid in Madonna's wedding, alongside other new posh British friend Stella McCartney. What happened to her sassy, scrappy girls from way back like Debi Mazar and Rosie O'Donnell? Why weren't they part of Madonna's public narrative anymore? In 2002, the
Chicago Sun-Times
wondered the same thing. "What draws the Detroit homegirl and the uptown fashion queen toward each other?" they pondered. Gwyneth told them that she and Madge get along because "we are on similar paths in our lives in what we eat and our yoga—stuff like that." But perhaps the Madonna's Brit-love was turning to hate, even as early as '04? According to a report in the
Daily Mail
,
Miss Paltrow, who is often fulsome in her praise of Britain and whose husband is English rock singer Chris Martin, has apparently decided on a home birth at her mother's house in Los Angeles…One friend said: 'Madonna told her all these horror stories about how bad the English hospitals are. So now she has decided to give birth in Los Angeles.'…'Have you been to hospitals in England?' Madonna asked. 'They are old and Victorian. You know I like efficiency.'
Ah yes, efficiency. One has to wonder, as the
Sun-Times
did half a decade ago, if Madonna and Gwyneth will remain close when their friendship is no longer mutually beneficial. Madonna became friends with Gwyneth when she was trying to cultivate a classy, erudite image. Gwyneth became friends with Madonna when she was just acclimating to British society and needed a famous friend. Somehow we can't imagine Chris Martin and A-Rod bonding over, well,
anything
. A love of yoga and macrobiotics is usually not the stuff of longterm relationships. Now that the always shape-shifting Madonna is moving on from that stage of her life, will Gwyneth be along for the ride? Earlier:
Madonna To Replace Guy With Gwyneth
Related:
A Manor Of Fact
[People]