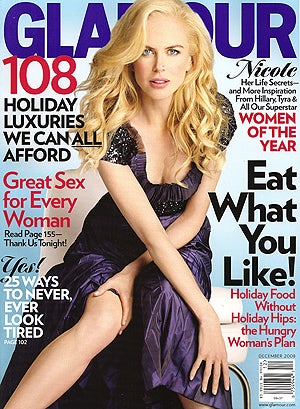 Last August, Ashley Baker, an editor from
Glamour
magazine, visited a law firm to speak about the dos and don'ts of corporate fashion. While commenting on a slide show, a picture of a woman sporting an Afro popped up, and Baker called it a real no-no. She said the same thing about dreadlocks, and suddenly a storm of
bad
press
swarmed
Glamour
. Last October,
Portƒolio
's Jeff Bercovici wrote: "Ashley is no racist, just a young writer who said something glib without considering how it would sound to someone from a different background." But you've got to wonder if
Glamour
is still smarting from the incident. The December issue features a "Glamover," in which they give a black "reader" a new look. Guess what?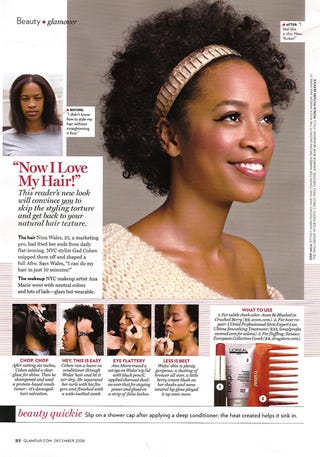 Marketing exec Nina Wales was given an Afro. Earlier:
'Glamour' Editor To Lady Lawyers: Being Black Is Kinda A Corporate "Don't"
GlamourPussy
Glamour "Racist" Freed From Slavery To Fashion
Glamour & "Political" Hair: What Have We Learned?
How Does A Black Woman Feel About The Glamour Controversy? I Asked Myself!
Glamour Attempts To Negotiate Peace Between Blacks, Bitchy Redheads
Related:
Dear Oprah, Mariah & Leona: Don't Forget That Curly Hair Is Beautiful Too