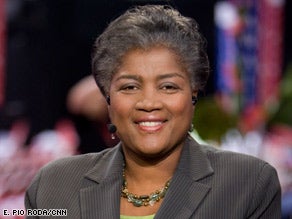 Before the election, Democratic strategist and CNN political contributor Donna Brazile spoke,
very passionately and eloquently
, about her experiences growing up in a segregated South and the race being run by Barack Obama. "I am not going to the back of the bus," she asserted. "My black skin does not make me inferior!" She said of the election, "At a time when we are in crisis, I want the best, I want the brightest, I want someone to take me where we've never been as a country." But for some reason, Donna Brazile was nowhere to be found on CNN during the election coverage last night. Perhaps she was working on
this new story
for CNN's website? She writes:
This is truly a historic night — a moment many of us prayed for, marched for, organized for and some even died for. This is not the end of a journey, but the turning of a major page in American history. […] Throughout his long journey, Obama built a campaign based on three factors: It was inclusive, engaging and empowering. […] Obama planted seeds of hope. He harvested the votes of those who gave up on politics and now America can celebrate this moment. Anything is possible again in America.
While it would have been amazing to see Ms. Brazile covering election night live on CNN, at least we have her clip from the
New Yorker
panel earlier in the fall. Our
first clip
was of poor quality (but still went viral!); here's a much better version:
Commentary: America's Historic New Chapter
[CNN] Earlier:
Donna Brazile Is Not Going To The Back Of The Bus