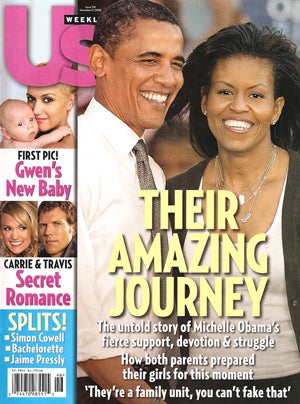 Welcome back to Midweek Madness! All anyone can think about today is the President Elect, Barack Obama, and
Us
is the only celebrity tabloid to put him on the cover. The four other covers? Business as usual: Jennifer Aniston and Angelina Jolie each land a cover, because they're both allegedly pregnant, and Jen's with
twins
. Suri Cruise wins a cover because she
might
get a baby brother, Xenu willing. And Britney Spears and her mental illness get a cover. All the usual suspects. Intern Margaret assists as we look for meaning in
Star
,
Us
,
OK!
,
In Touch
and
Life & Style
, after the jump.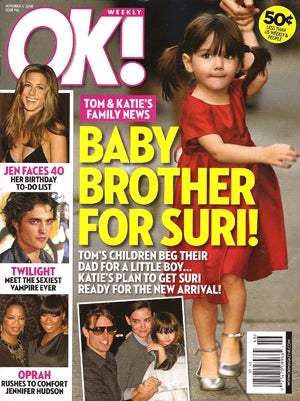 OK!
"Baby Brother For Suri!" Okay, so Nicole Kidman told the December issue of
Glamour
magazine that her teenage son, Connor, is hoping for a baby brother. "He would like one of us to have a boy. He wants that boy. Katie?" Basically,
Nicole is done with giving birth and it's all up to Katie Holmes.
Hence this
cover story
. A "friend" says: "Kate and Tom very much want another baby. There may be no better time than now for Katie to get pregnant again, and absolutely nothing would make Tom happier. Their second anniversary is just days away [Nov. 18] and I wouldn't be at all surprised to see another little Cruise come into the world nine months later." Hear that?
TomKat could have sex on their anniversary, Katie could get knocked up, and Suri could have a brother.
Moving on: Oprah is letting Jennifer Hudson stay at her East Lakeshore Drive condo in Chicago while she deals with the deaths in her family. "There's plenty of privacy and security there," a pal says. Carnie Wilson is pregnant, if you care. Britney is still under her father's conservatorship.
Angelina Jolie is using her kid's video games to work out: She does "Let's Pilates!" on Nintendo DS.
Then there are a bunch of weird,
Marie Claire
-style stories in this issue, maybe because the mag has a
new
editor
: There's "The Dos & Don'ts Of Love At Work," which touches on
Gossip Girl
's cast members dating; "How To Score A Sexy Sports Star," which is Jessica Simpson-inspired, and "Don't Catch The Office Cold," which is about staying healthy at work, but uses a picture from the NBC show
The Office
. These pieces are not really gossipy, more service-y, and therefore weird in a gossip mag. Lastly, there's "10 Things You Must Know About
Twilight
," the new vampire movie that will eat America's soul on November 21.
Grade: F (hopelessness)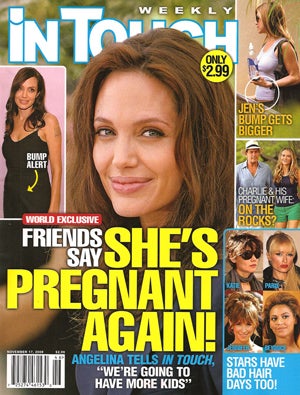 In Touch
"She's Pregnant Again!"
Angelina Jolie has a "small yet noticeable baby bump."
She gave birth to twins in July but "may already be two months pregnant." For the love of God. A "friend" says: "She is very tired and emotional. She had thought it was post-partum depression, but then she told Brad, 'Um, I think we've done it again.'" Also, the magazine actually prints these words: "She wants a bump for the Oscars." And guess what? Jennifer Aniston might be pregnant too! The mag claims her "bump" is "getting bigger." Moving on: Tori Spelling's spawn, Liam, 20 months old, is pictured checking himself out in
In Touch
(Fig 1). Meta.
Lisa Rinna has a "new" face
(Fig. 2) and says: "I know I went too far. I saw a doctor in New York who I don't normally see, and we went a little overboard. I saw a photo of myself at a party and went, 'Oh jeez, I have too much filler.'" Charlie Sheen and Brooke Mueller are "on the rocks." She's pregnant; he's been out partying. The Jonas Brothers have a $24,000-a-month mansion in Bel Air, and you don't. Lastly: You've heard this one before, and here it is again:
Lindsay looks too thin
(Fig. 3).
Grade: D- (ennui)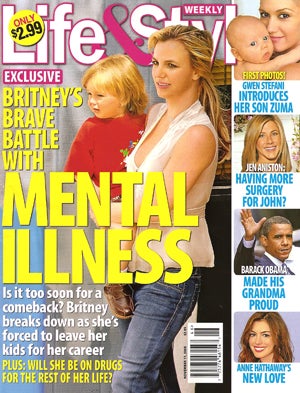 Life & Style
"Britney's Brave Battle With Mental Illness" Hey,
Britney was diagnosed with being bi-polar less than a year ago… Is she ready for a "comeback"?
She was spotted in tears at rehearsal for her upcoming tour. An insider claims she said, "It's all too much for me right now." Moving on: An source says
Jennifer Aniston wants more plastic surgery because she's afraid her "nose is only getting bigger."
She has a window of time in January and February before the release of
He's Just Not That Into You
and could squeeze in some rhinoplasty. Heidi Montag's dad says: "Every father wants his daughter to be with someone like Spencer, believe me. If they want to get married, they definitely have my blessing." What is that guy smoking? He also showed Spencer his gun. Anne Hathaway's new man is an actor named Adam Shulman. Gwen Stefani put a picture of her baby on her website for the world to see: He looks like a baby. Also,
the mag calls 2-year-old Kingston Rossdale "Hollywood's Newest Bachelor."
He had a playdate with Tobey Maguire's daughter! Angelina Jolie says: "If we look at all the cartoon heroines, there isn't even one princess in Disney that Zahara can identify with. And there's something very wrong with this. We had an African-American candidate for the Presidency, and not even a cartoon for a black child." Lastly, this week in "Dr. Rey's Casebook," the feature in which the plastic surgeon reduces women to body parts, which he then critiques, Heidi Montag needs Carmen Electra's butt; Tara Reid has dimples on her "saggy" derriere and Mena Suvari's behind is "perfectly perky."
Grade: D (apathy)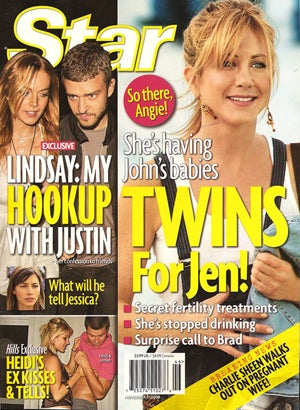 Star
"Twins For Jen!" The magazine prints the words: "First comes love, then comes marriage, then comes Jennifer Aniston and John Mayer with a baby carriage — big enough for twins." It's hilarious, but we read the "first comes love" shtick before, in
Life & Style
. According to
Star
:
"Jen has been undergoing fertility treatments, determined to have a pair of babies with John."
And Jen has already called Brad to tell him about the babies. Moving on:
Lindsay Lohan's been bragging to her pals that she and Justin Timberlake had a one night stand in January
. Jessica Biel was in England, filming a movie, and LL invited JT come to her house in West Hollywood. A source says that she says he came right over and they did it on the couch. A couple of weeks later, LL made plans to meet JT again, but he stood her up. This was around the same time Justin was "seen" hooking up with Kate Hudson. Also inside:
Evan Rachel Wood has dumped live-in boyfriend Marilyn Manson!
He tried to kick her brother out of the guesthouse, but Evan
owns
their home. Blind item! "Which TV funnyman looked like a big joke backstage at a recent hip-hop concert? Pale, bloated and wearing a stained hoodie, he bragged that he was tripping on LSD." Angelina Jolie was so "angry" about Brad flirting with Diane Kruger on the set of his new film, she flew to L.A. to appear at the Hollywood Film Festival Awards. Two days later, Brad followed her to L.A. with the kids in tow, to "grovel for her forgiveness." Lastly, there are four pages of candid snapshots and info from Heidi Montag and Audrina Patridge's ex-boyfriends, who "tell all," in case you're interested. We're not.
Grade: D+ (indifference)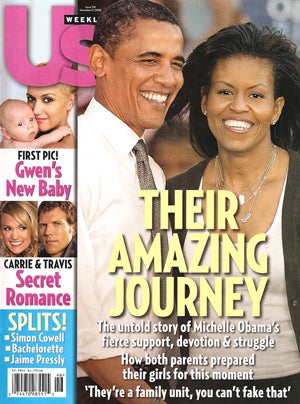 Us
"Their Amazing Journey." If you can't handle gossip and you just want to read about ZOMG Barack Obama, there are
13 pages of text and pictures about the new first family, the role of first lady and what it's like to be a kid growing up in the White House.
Snaps of the Kennedys, Susan Ford, Amy Carter, political dogs, etc.! Plus: Michelle Obama's mom might move into the White House along with the family. Sasha and Malia love the Jonas brothers and Nick Jonas says, "Those girls are very sweet. We will never turn an offer to go to the White House." Did you know that Barack and Michelle's 16th anniversary was on October 3? Michelle thought Barack would be too busy to celebrate, but then she saw a picture in the paper of him buying flowers, and later he gave them to her. Moving on: A-Rod was seen driving to Madonna's house in L.A. recently and plans to attend her L.A. concert.
Rachel McAdams and Ryan Gosling: It's off.
Sniff. An insider suggests Rachel was too controlling and Ryan dumped her. WTF. Simon Cowell and Terri Seymour have broken up after 6 years of dating; she wanted kids. Lastly, Carrie Underwood is dating a doctor from a TV show called…
The Doctors
.
Grade: A (hope) This week, politics trump celebrity!
Fig. 1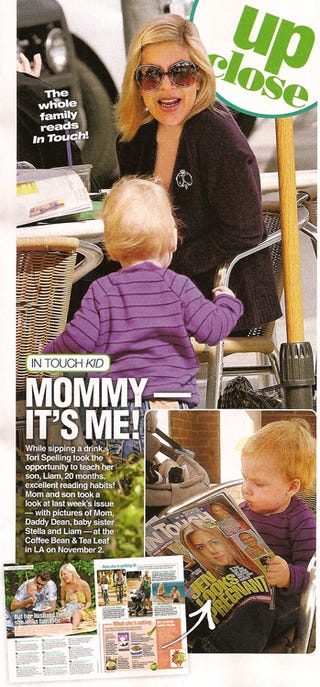 Fig. 2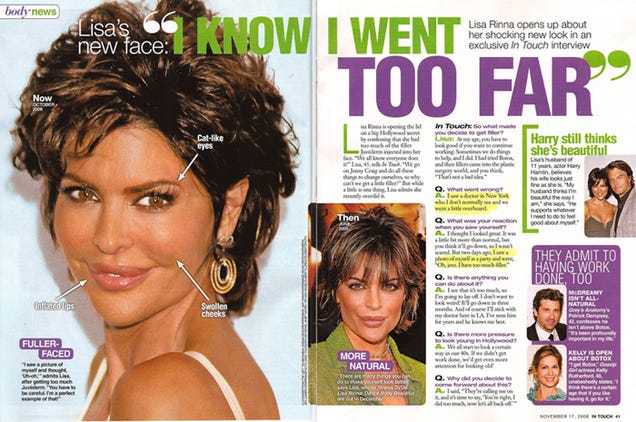 Fig. 3