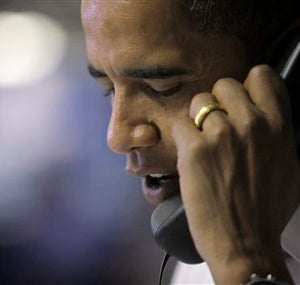 The election that I quit my career almost exactly a year ago to try my hand at covering is nearly at an end, but it's not technically over until John McCain calls Barack Obama and concedes. So it might actually be a while. Luckily, I'm here to sum up what I'm seeing and I have some friends around to help!
Spencer
Ackerman
,
Jason
Linkins
,
Kay
Steiger
and [UPDATE!]
Latoya Peterson
will be dropping in and out between their own live-blogging duties to while away the hours. Drinks all around! It starts after the jump.
After midnight
I got caught up in other threads, but the panel continued apace.
JASON
: God. What were you thinking about when you woke up this morning. Doesn't it seem a decade ago?
SPENCER
: What seems like a decade ago was the most despicably corrupt and abusive and ignorant and destructive and cynical and amoral administration in history, and yet it won't end for almost three months.
JASON
: Picking through it's entrails will take even longer.
SPENCER
: "...we may not get there in one year or in one term, but America I promise you, we as a people will get there." HOLY. FUCKING. SHIT. [ Latoya has entered the room]
SPENCER
: LATOYYYYYYYYYYAAAAAAAAA
LATOYA
: Hell yes we can! What's up y'all. Sorry so late, we got to drinking and crying...you know how it goes
SPENCER
: Have you heard these MLK cadences and references in the victory speech?
MEGAN
: Um, all the Lincoln stuff?
LATOYA
: Yes, but I'm a bit too overwhelmed to process right now. I keep getting text messages from people who never wanted to vote, who never voted before, who felt so disengaged from politics - they feel a part of this too. It's sensory overload.
SPENCER
: YES — WE — CAN. The return of it, through redemption.
MEGAN
: It really is, I'm not processing anymore
SPENCER
: This is even better than the Denver speech. How do we not become inured to this?
JASON
: About five years ago, I was sitting at Tonic with my wife and a couple of friends, and I had had a few, not a lot, and I don't know how I got onto the topic, but I remember distinctly going off on a long lamentation about what it was like to be alive in the time of my life. Because it seemed to me that so many frontiers had been reached before I was born. And it seemed like so many frontiers would be denied by an overall mean-mindedness and smallness. And I wondered that night if I would ever live to see anything in this world that truly made me feel like there was a reason for me to be alive. And I lamented the lack of faith I had in those possibilities. All I can say tonight is that I never should have doubted, and I should have kept the faith, and I feel like the luckiest person in the world for having been proven wrong.
LATOYA
: It is redemption, Spencer. This blowout was the end of an era. I really feel like I am waking up to a new America tomorrow. (Now, old America could be back next week, but still.) We're all lucky, Jason.
JASON
: And with that, my editor tells me that he just got invited to the Mitt Romney in 2012 Facebook group. Seems our work is never done.
11:46 ET
As they call states, I will update here, but check Barack Obama's speech in a live thread, starting when he does: around midnight.
SPENCER
: The largest presidential victory since Reagan 84. For the most liberal candidate since Lyndon Johnson.
MEGAN
: LBJ may have been arguably less liberal.
SPENCER
: INSHALLAH! Gergen and CNN are like
the victory speech will tell us how Obama will govern
. And yet I recall Bush's eloquent, bipartisan and conciliatory speech from Dec 12, 2000.
11:44 ET
Arizona went for McCain, Hawai'i for Obama. Obama has 338 electoral votes to McCain's 156 at this point.
11:37 ET
Nevada went for Obama, according to MSNBC. This is really turning into a blowout. Eugene Robinson on MSNBC keeps choking up and it's making me teary. I recommend watching him.
11:33 ET
SPENCER
: Guys, Obama is up by 5000 votes in North Carolina with 93 percent of the vote in.
MEGAN
: Fuck yeah.
11:30 ET
SPENCER
: What is that music they're playing at McCain HQ? It's like the background theme to the scene in Braveheart where William Wallace gets drawn and quartered
JASON
: That could be exactly what it is, you know.
11:27 ET
John again mentions that America chose Barack Obama and Joe Biden, and his crowd boos
again
and McCain says, "Enough." Someone then shouts out "Sarah!" For real, this is an extremely, extremely classy speech. His supporters can't ruin that, thankfully, mostly because, for once, he won't let them.
11:25 ET
When he mentions Sarah Palin, the crowd goes wild. Jason points out that someone shouted out "Palin 2012!" at McCain's concession speech. Really?
11:21 ET
Overall, an extremely classy speech by John McCain. He shot down people booing, shouted out Madelyn Dunham, and asked his supporters to support the next President. Someone in the background is shouting, "Nobama," like, dude, what the fuck. McCain is keeping it classy. If he had been
this
John McCain the last couple of months, seriously, I wonder what I'd be writing right now.
11:19 ET
McCain gives his concession speech. People boo the mention of Obama's name, and when McCain admits that Obama loves this country, people shout angrily.
11:18 ET
SPENCER
: Fuck this I'm going to say it. Who here can really say they felt this American since 9/11? Last time from fear, this time from hope. All after this dark night of being told we were somehow less than American. And we're WHITE.
MEGAN
: Jesse Jackson is crying.
SPENCER
: Jesse Jackson is crying
MEGAN
: I don't know how to watch older men weep.
11:16 ET
MSNBC calls Florida for Ohio as well, and they've got Congressman John Lewis (D-GA). He's speechless, practically. I mean, for a Congressman.
11:14 ET
MSNBC gives Colorado to Obama. This is really turning into a landslide.
11:12 ET
MSNBC reports that McCain called Obama to concede.
11:06 ET
SPENCER
: They said this day — say it with me — WOULD NEVER COME.
MEGAN
: I don't know that I actually really, really thought it would happen until right now.
11:03 ET
Not that you were really worried at this point, but Oregon and Washington apparently went for Obama, too. Everyone is
grooving to Stevie
, obviously.
11:01 ET
SPENCER
: THE 44TH PRESIDENT OF THE UNITED STATES OF AMERICA
MEGAN
: Wow.
SPENCER
: The dirt is officially off of America's shoulder.
11:00 ET
California goes for Obama, which means that Obama has 275 electoral votes. HE WON!!
10:59 ET
Bill Hemmer admits what we all suspected was the Republican strategy while talking about the Virginia vote total: "This is a state that John McCain knew he had to keep the overall vote total down to beat Obama."
10:52 ET
SPENCER
: Could it be that with VA, Obama wins the presidency even without the West Coast? Is Biggie's dream coming true? WILL CRAIG MACK COME OUT OF RETIREMENT????
MEGAN
: According to Fox exit polls, 92% of African-America voters in VA went for Obama, but only 39 percent of us crackers did. 63% of new voters went for Obama. Bush won independents by 10 points in 2004, Obama took then by 1 tonight.
10:45 ET
Spencer says that while I was entranced by Chuck Todd, Fox called Virginia for Obama.
America, fuck yeah!
10:44 ET
Chuck Todd points out that, given the current projections, Obama taking California and Hawai'i alone gets him to 266 of the 270 required electoral votes.
10:40 ET
Republican strategist Michael Murphy says, "I'm doing a little back-of-the-envelope math with my friend Dr. Smirnoff back here." My friend is Madame
Guenoc Petite Sirah 2005
.
10:37 ET
MSNBC calls South Dakota for John McCain.
10:36 ET
Virginia's Board of Elections shows that with 87% of precincts reporting, Obama just pulled away in Virginia and is now up by 31,000 votes. Jason says, "Yeah. I think they finally counted my vote." Mine, too.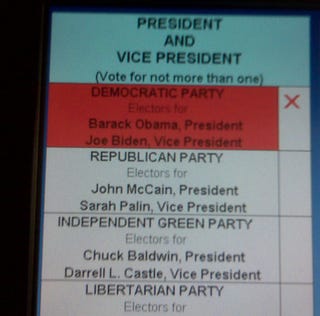 10:28 ET
Howard Fineman on MSNBC says, "[McCain adviser] Mark Salter sounded like he'd been run over by a truck." Anna says "Please, someone, back that truck over him."
10:25 ET
SPENCER
: ... remember how in 2003-4, there was all this talk about how the Democrats were in danger of no longer being a national party?
MEGAN
: They're taking back the Midwest, bitches.
JASON
: And the West. And, it's still possible to claim NC. I give Obama a slim shot at NC.
10:23 ET
Dana Bash on CNN says that Sarah Palin and John McCain are watching their loss together in the Goldwater Suite at the Biltmore Hotel. Um, I guess no one is superstitious? I guess I forgot to mention, but Mississippi recently went McCain.
10:12 ET
JASON
: I am officially calling Virginia for Obama.
MEGAN
: Ok, you are the new Chuck Todd!
SPENCER
: Chris Shays concedes in CT. House GOP now officially extinct in New England.
NO SLEEP TILL LIEBERMAN
!
MEGAN
: God, I wish. WTF happened to him? Did you see today he promised to filibuster with the Republicans?
JASON
: Someone really should drop by
Hillaryis44
and see what those idiots are saying about tonight. "A Wee Childe's Garden Of Retardation."
MEGAN
: Most of them bailed out of the comment thread at 9:30, and are accusing Obama of fraud, the rest of us of not getting it and predicting the country is going to hell. Don't bother.
10:10 ET
SPENCER
: [Republican strategist Alex] Castellanos on the GOP: "We broke our brand... We spread the impression, and rightly so, that what we came to Washington to end, we became."
MEGAN
: Ouch. But right.
10:09 ET
Fox is calling the Georgia Senate race for Chambliss. But, you know, they did that for Wicker a minute ago. He does have to get above 50 to avoid a runoff.
10:06 ET
Fox News takes back its call for Wicker, decided to call it "too close" to call. They give Idaho to McCain, though. They say that Colorado's Senate race is too close to call, ditto for Louisiana's Senate race.
10:00 ET
MSNBC gives Iowa to Obama, Utah to McCain. Fox has Nebraska, Kansas for McCain. Texas' John Cornyn (R) will keep his seat, Carl Levin (D-MI), Tom Harkin (D-IA) and Max Baucus (D-MT) will keep theirs. Fox is projected Roger Wicker (R-MS) will keep his seat, which means that unless the Dems pull of a victory that no one expected, they won't get a filibuster-proof majority.
9:58 ET
JASON
: Obama has taken the lead in Virginia. And they haven't counted my vote yet!
9:55 ET
McCain takes Texas. Whoo.
9:51 ET
Virginia's Board of Elections has 40% of Arlington County precincts reporting 66% for Obama. Not that we're Real Virginia. Sadly for McCain, our votes count like we are. HA HA.
9:45 ET
Louisiana went for McCain. There's your legacy of Katrina.
9:43 ET
KAY
: If people care about the ballot initiatives, early results show both the SD ban and the CO "personhood" amendment as losing so far.
MEGAN
: Good, now if we can just keep California from passing Prop 8...
9:41 ET
The Dems just picked up the New Mexico Senate seat. That's 4 Dem pickups, if you're counting. Also, Chuck Todd just said that calling it a "narrow" path to the Electoral College for John McCain is stretching.
9:35 ET
KAY
: McCain FAIL.
MEGAN
: Totally.
SPENCER
: MSNBC has Obama winning Ohio & NH. And what Kerry state could Obama possibly lose to McCain? CNN just called Ohio for Obama. YES, I THINK WE JUST DID.
MEGAN
: Karl Rove was on Fox saying McCain had to take WA, OR, CA or HI, which seems fucking unlikely.
JASON
: McCain may as well shit himself a pantsload of gold doubloons.
SPENCER
: I am cueing up "
Dirt Off Your Shoulder
."
JASON
: Word. Gimme the Jay-Z/Verve mashup. ABC News now has the Old Dominion at 50/50 with 72% reporting. I think
Amanda Mattos
' mission of mercy may have made the difference.
KAY
: I guess
this
was wildly inaccurate. Huh.
9:31 ET
Looking at my TV, I note that South Dakota has re-elected Senator Tim Johnson, who started 2006 with a massive brain bleed that almost killed him. At the time, I was friendly with some (Republican) South Dakota politicians, one of whom was short-listed for the appointment if he passed. So I called him and said, "Hey, wow," and he said, "You know, it's an honor to be thought of in that way, but I just hope that Tim Johnson pulls through." That guy was all class. He's out of office now.
9:27 ET
KAY
: Nate Silver, hot or awkward? My friends are divided on this issue.
SPENCER
: I have just emailed Nate with the promise of sex with 100 Jezebels.
MEGAN
: Although not my type, I was prevailed upon/ordered to add him to the list of the
10 break-out election hotties
. There was a lot of affirmation of this choice.
JASON
: Hank Williams, Jr. is singing at the McCain party. Hey Hank! Are you ready for some gettin' your punk ass handed to you? Also: talent skipped a generation.
SPENCER
: HAHAHAHA JAMAL IS ON THIS LIST. He goes to my gym.
MEGAN
: Yeah, that one was all me.
9:24 ET
JASON
:
538
is back up, which in no way should stop those 100 Jezebelles from comforting Nate Silver.
9:23 ET
MSNBC follows Fox's lead and calls Ohio for Obama (according to Anna). Fox is all but calling the election over, barring a miracle.
9:21 ET
JASON
: WorryTrolls have apparently killed
538.com
.
MEGAN
: Aw, poor Nate Silver. I think at least 100 Jezebels would be happy to comfort him personally.
9:18 ET
Fox calls Ohio for Obama! It means that McCain needs to pick up a Washington or Oregon to get past 266 (he needs 270 Electoral College votes to win). Karl Rove sounds depressed: "No Republican has ever won while losing the state of Ohio."
9:16 ET
Republican strategist Mike Murphy on MSNBC notes that McCain isn't doing as well as he was polling in Republican counties in Florida and he's behind with the Democratic counties barely reporting. Harold Ford (former Democratic Congressman from Tennessee and Julia Allison shtupper when she was a Georgetown student with a different last name) notes what I just did about Arlington County not reporting a damn thing yet.
9:13 ET
Governor Jennifer Granholm (D-MI) is on MSNBC. She says, "Forget 'drill, baby, drill,' in Michigan, it's 'jobs, baby, jobs.'" She's sounding a little fabulously gloat-y about how Bush and McCain both pulled out. Love her.
9:09 ET
Chuck Todd reports that there aren't a lot of votes counted in the northern Virginia counties of Fairfaz, Loudon, Prince William or Arlington. Current VA Board of Elections data have a 35,000 vote difference between McCain and Obama.
JASON
: SIC SEMPER TYRANNIS. Remember! It's LOUDON. My god, if you fuck that up, those sprawl-loving fucks won't let you forget it.
MEGAN
: There has GOT to be 35,000 votes in Arlington alone.
KAY
: At least.
9:00 ET
Fox News calls Wisconsin, New Mexico, Minnesota, Michigan and New York for Obama, North Dakota and Wyoming for McCain. North Carolina, Virginia, Florida, Indiana, Ohio and Missouri remain too close to call. New Mexico is the first Bush state to go for Obama so far... Obama is way up in Ohio, and although Brit Hume mistakenly read it as for Obama when they still consider it too close to call, Obama was whomping McCain in the early numbers.
8:54 ET
KAY
: Something to remember about Minnesota (the polls close there in 6 minutes): they have day-of voter registration. This tends to boost turnout among young people, who lean Democratic.
MEGAN
: Here's hoping they think Coleman looks like Lurch, too
8:49 ET
SPENCER
: Megan, do we still not have Northern Va & Richmond returns?
MEGAN
: Nope. Jason and I were discussing earlier that, at least in Arlington, they were offering paper ballots to every person and, at least in my district, people were really taking them up on it even though we've used these touch screens since 2004. But that means that the relatively quick results from 2006 are going to have to be later this year — and that the media has been successful in freaking people the fuck out about touch screens.
JASON
: Remember, if you were standing in line at the polls in Virginia when they closed, your vote is going to be counted. Also, many key Democratic districts came in late in 2006. I'd expect the same thing.
MEGAN
: Yeah, in 2006, I walked in at 6:59 pm. But, whoa, Arlington hasn't reported anything yet.
8:46 ET
Chuck Todd points out that nothing is different than 2004 yet, although it looks positive for Obama in Florida and Indiana, but Virginia is scaring him, too.
8:39 ET
Fox calls Georgia for McCain.
8:37 ET
SPENCER
: NH for Obama. MAC'S BACK IS CRACK'D
JASON
: Still got to poach a state.
SPENCER
: Yeah, I just wanted to shit on the "Mac is Back" chant from the NH primary.
KAY
: John Kerry won his re-election campaign for Senate by a wider margin than he ever could've hoped to in 2004's presidential election. I think the Senate is his true calling.
MEGAN
: Brit Hume does NOT look happy about announcing PA
SPENCER
: Kay, I wouldn't
bet on that.
MEGAN
: Megyn Kelly is saying that the only group in PA that sided with McCain is white Catholics. 81% of Hillary supporters went for Obama. Whoa, 51% of seniors went for Obama.
8:30 ET
Fox is calling Arkansas for McCain, but Ohio, Florida, Indiana, Georgia and North Carolina are still too close to call. They're just now calling Pennsylvania. In terms of Senate races, Democratic Senator Mark Pryor will keep his seat in Arkansas. Republican Jim Inhofe will keep his in Oklahoma according to MSNBC.
8:23 ET
JASON
: I have to say, it would be bittersweet for me if Virginia wasn't part of an Obama victory. I'm of the belief, though, that as in 2006, the key Democratic districts are going to come in late.
MEGAN
: God, I hope so because the
Board of Election's numbers
are freaking me the fuck out right now.
KAY
: The wildly unreliable exit polls show Obama leading among
men and women
in VA. If they're right, the math is undeniable. And agreed on VA's BOE.
8:15 ET
Jason informed us, solemnly, that the New Hampshire Senate race has been called for former Democratic Governor Jean Shaheen. That's the 3rd Demoratic pick-up for the night, but they don't get Maine or Kentucky. Democratic Senator Dick Durbin won in Illinois but (sniff) lost his 44-year-old daughter to a birth defect last weekend. John Kerry keeps his seat in Massachusetts. MSNBC says that both Mississippi Senate seats are too close, and Alabama and Oklahoma races are too early to call. They are
not
calling North Carolina for Hagan. Yet.
8:14 ET
SPENCER
: Take a drink every time Dana Bash blinks and you will be FITSHACED.
MEGAN
: That will make it very, very difficult to live blog.
8:10 ET
Fox calls North Carolina for Kay Hagan! Fuck you and your "godless" commercial, Liddy Dole!
8:07 ET
Fox calls Kentucky's Senate race for McConnell, but Democrat Jean Shaheen appears to be way up in New Hampshire and ditto Kay Hagan in North Carolina.
SPENCER
:I can't say I'm happy about the McConnell call, but the way that AFSCME gay-baited him was really repugnant and a betrayal of liberal values.
MEGAN
: Repugnant and ineffective. Hopefully we can say the same thing about Liddy Dole's "Godless" commercials.
8:03 ET
Fox calls Senatorial wins for Democrats Joe Biden (DE), Frank Lautenburg (NJ). Republican Susan Collins is the projected winner in Maine. It's still too close to call for McConnell in Kentucky, Dole in North Carolina or Chambliss in Georgia. John Cornyn (R-TX), Lamar Alexander (R-TN), Jay Rockefeller (D-WV) will keep their seats.
8:00 ET
MSNBC calls Pennsylvania, Illinois, New Jersey, Massachusetts, Maryland, Connecticut, New Hampshire, Maine, Delaware and D.C. for Obama. McCain gets Tennessee, Oklahoma. Obama's got 103 and McCain's got 34 electoral votes based on those projections.
7:58 ET
This is what happens when America keeps us waiting.
MEGAN
: Valerie Jarrett is on MSNBC and is wearing a shirt from the Ann Taylor factory store. I know because I own the same shirt.
JASON
: I'm sure you wear it better, Megan.
KAY
: But we all know that coverage of women's clothing is
sexist
.
MEGAN
: I am a sexist, everyone knows.
7:53 ET
Our team seems to have lost focus, except for Kay who is steely-eyed in her resolve to keep us on track.
JASON
: The only question so far this election is: How many CNN employees got laid off so Wolf Blitzer could talk to fucking holograms?
MEGAN
: Damn, MSNBC just showed a commercial for
Australia
and I now want to see it so. bad.
SPENCER
: It took a 2-mile walk, but I now have a 6-pack of High Life and a Wendy's bacon cheeseburger. I'd like to believe the fact that I scored the last BBQ sauce packet augurs well for Obama-Biden.
KAY
: Obama appears to have won a significant
county
in Indiana.
7:48 ET
Taking one for the team, Jason is watching Fox and says they have called West Virginia has been called for McCain.
JASON
: No surprises so far. McCain wins SC, KY, up in WV (Fox has already called it.)
7:46 ET
MSNBC calls South Carolina for McCain, and Olberman says that an AP poll shows that 1/3 of voters who voted to re-elected Republican Governor Mitch Daniels (former Bush OMB Director and Eli Lilly exec) in Indiana voted for Obama.
7:43 ET
Have become completely obsessed with the Fox/MSNBC scrolls of individual House races. Olbermann is showing vid of McCain's last speech on the Straight Talk Plane. Cindy's staring at him adoringly. She's wearing her "I Voted!" sticker. His cardboard cutout is staring at me from behind McCain's right shoulder. He's kissing the press's collective ass. Amusingly, Lieberman was standing directly behind him.
7:35 ET ET
Virginia's Board of Elections
shows that with about 5% of precincts reporting, McCain is up by 13,000 votes about of 103,000 counted so far. It's mostly rural counties reporting, with some suburban, according to Michael Barone on Fox News.
7:32 ET
Fox News is reporting that the North Carolina Senate race is too close to call and Kay Hagan has a slight lead. McConnell has a very slight lead in Kentucky. Chambliss has a slight lead but it's too close (and he has to get about 50% to avoid a run off in December).
7:30 ET
MSNBC reporting it's too close to call in North Carolina; Ohio and West Virginia are too early to call. Virginia and Georgia are too early to call, still, and Indiana is still too close (about 15,000 vote difference with only 14% in). I miss when they just used to call shit.
7:23 ET
I hate doing this, but Fox News' standards for what they'll show is way lower. With less than 1% in, they've got McCain way up in Florida and Georgia, a little up in Indiana with 10% in and Obama waaaay up in Maine with less than 1% in. MSNBC projects the Dems to take 261 seats in the House, Fox has them taking far fewer. They are now reporting another stupid lawsuit against Brunner in Ohio. They really, really like suing there in Ohio.
7:16 ET
MSNBC says Virginia's too early to call. That's because the Virginia Board of Elections does not plan to start releasing data until 7:30 ET. MSNBC exits polls could be positive for Obama.
7:02 ET
MSNBC projects Mark Warner (D) will pick up the open Virginia Senate seat and Lindsay Graham (R-SC) will keep his. It's too close to call in Kentucky (incumbent: Republican Mitch McConnell) and Georgia (incumbent: Republican Saxby Chambliss).
7:00 ET
MSNBC projects Kentucky for McCain, Vermont for Obama. They are not calling: Indiana (too close), Georgia (too early), Virginia (too early), South Carolina (too early).
6:50 ET
JASON
: I just need to say: Someone has got to knock down this rumor of a Kristen Wiig/Joe The Plumber tryst PRETTY DAMNED QUICK. Who do we have on this?
MEGAN
: If I were really drunk, I would hit that, too.
JASON
: All I can say, is that with the level of notoriety he's gotten for himself, I'd better tune in in about two years to discover that he's the motherfucking KING OF THE PLUMBERS. If Joe can't become the Rupert Goddamn Murdoch of Plumbing and HVAC Repair, then he needs to get kicked in the fucking nuts by the entire nation.
MEGAN
: I'll take the first shot.
JASON
: Yes you can.