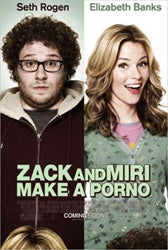 Two recent articles point to the film
Zach and Miri Make a Porno
as evidence that pornography has officially gone mainstream.
The Los Angeles Times
claims that porn stars are taking on acting roles in mainstream films more frequently, because — and yes, you've heard it before — as porn became more widely viewed on the Internet, it became less taboo, making directors more comfortable casting adult stars. A piece in
Esquire
argues that since porn is no longer something that will stigmatize you forever, but rather a pathway to celebrity, millions of young Zach and Miris are picking up their video cameras and shedding their clothes.In the 1970s porn stars didn't even use their real names — the discovery that an actor had done porn was usually career-ending. In 1972, Ivory Snow poster girl Marilyn Chambers was dumped from the ad campaign immediately when it was discovered that she had starred in an X-rated film. But the widespread availability of pornography online has led to more relaxed attitude about sex and the adult industry. Today, adult film stars in Hollywood are valued for their acting skills and "uninhibitedness." "There's no sort of, 'Gee, shucks, can you take your top off?'" says
Zach and Miri
director Kevin Smith. His film stars two actual porn stars in minor roles: Traci Lords and Katie Morgan. Morgan, a 28-year-old who has made dozens of porn films, says part of her motivation in pursuing mainstream roles is that there are fewer adult feature roles since the rise of amateur sex sites on the Internet. Steven Soderbergh cast Sasha Grey, a 20-year-old former porn star in the upcoming film
The Girlfriend Experience
, about a $10,000-a-night call girl. When asked why adult stars had become more acceptable in Hollywood, Soderburgh pointed to Paris Hilton's sex tape as the moment that "confirmed that everything had changed." Rather than ruining her reputation, the tape actually boosted her career. Of course, Paris Hilton's sex tape was stolen from her, as were Pamela Anderson and Tommy Lee's and Colin Farrell's. Part of the appeal of these videos is the glimpse into the "real" lives of the stars: un-Photoshopped, at their most intimate moments. In
Esquire
, Stephen Marche writes that Kim Kardashian's sex tape "changed the rules of DIY pornography almost before they came into existence." Unlike the other celebrity sex tapes, Kardashian appears to
know
that her video is intended for mass consumption; she often uses the word "everyone," as in, "for everyone who thinks my boobs are fake, they're real." Kardashian transferred her sex tape's success into higher profile roles on
Keeping Up With the Kardashians
and
Dancing With the Stars
. With so much low-budget amateur porn on the Internet, the traditional porn star seems all the more legitimate, making the transition to Hollywood easier than in the past. However, while
Esquire
claims that the amateurs fueling the explosion of Internet porn, or the "ugly people" "setting up poor-quality cameras to film themselves in unimaginative positions," are driven by promise of fame, they ignore one huge motivating factor. Even in the film, Zach and Miri don't make a porno to fulfill their celebrity aspirations, but to pay the rent. The fact that porn is becoming more mainstream and celebrities go on to have successful post-sex tape careers may make people less hesitant to turn to porn. But the idea that most of the women who turn up in low budget amateur films are just hoping to be the next Kim Kardashian is as much a fantasy as the idea that all porn stars just love sex. It may make that grainy video easier to watch, but in reality the 18-year-old amateur is probably just trying to make a few hundred dollars to pay her bills.
Porn Stars Are the New Crossover Artists
[The Los Angeles Times]
What's With All The Ugly People Having Sex?
[Esquire]