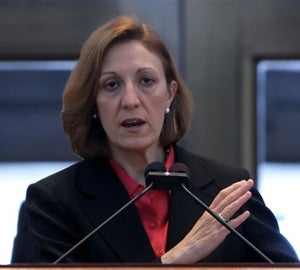 Ohio Secretary of State
won the JFK Profiles in Courage award earlier this year
for her "political courage and her commitment to ensuring the enfranchisement of every Ohio citizen." Her courageous actions included making sure that primary voters got paper ballots when electronic voting machines malfunctioned and replacing said machines in time for today's general election with optical scan technology.
An article about her in The New Republic
notes that Brunner is likely to preside over an election that will see 80% of her state's record 8.3 million registered voters participate. Republicans in her state are, naturally, trying to shut that down.The Ohio GOP would like to make Brunner no less than their version of Florida's former Secretary of State, Katherine Harris, who presided over the recount (and a record voter purge) in 2000 that left her state's citizens disillusioned about the electoral process. Republicans have already taken Brunner to the Supreme Court and back over an order than allows newly registered voters to participate in early voting — making it harder for GOP operatives to challenge their registrations. Brunner takes it all with a sense of equanimity, telling Seyward Darby, "But this too shall pass," despite the hate mail, death threats and fake-anthrax mailing she received in the wake of the Supreme Court decision that the registrations would stand. She and her staff and trying desperately to make sure that the election goes off with as few hitches as possible, and are leaving open the state's voter information hotline despite calls from in and out of state that have more to do with the already-decided court cases than helping individual voters exercise their rights.
A Hard Rain's A-Gonna Fall
[The New Republic] Related:
Jennifer Brunner
[JFK Library Foundation]