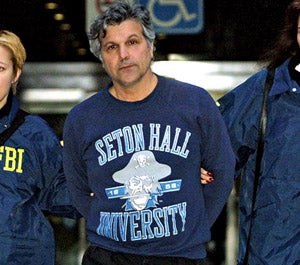 Individuals in
murderous lunatic fringe
of the pro-life movement always struck me as egregiously irrational. They argue over the sanctity of life but at the same time find it morally acceptable to kill another human. Which is why this week's
New York
article about the pro-lifers Dennis Malvasi and Loretta Marra — who helped James Kopp, the extreme anti-choicer who murdered Buffalo-area abortion doctor Barnett Slepian evade police for several years — was particularly intriguing.Malvasi is a Vietnam vet who grew up in extreme poverty in East New York. When he returned from Vietnam, he became a drifter who floated in and out of jail and fell into the pro-life movement, in part because he was enraged that "he'd defended his country and was called a baby-killer while others were murdering the unborn with impunity." His anti-abortion convictions were so extreme that he became New York City's first abortion clinic bomber in 1985. Malvasi turned himself into police only after Cardinal O'Connor issued a public plea, begging Dennis to give himself up. After Malvasi's stint in jail for those bombings, his friend from the old neighborhood "Joseph" took him in. Joseph is a Polish Jew who stayed in Poland during WWII but eventually left "when some kids went after Joseph with a straight razor, claiming that his parents had killed Christ." Why did Joseph support this nefarious character? "Here was someone from the old days who'd gone on to become a war hero, someone who made him feel like a big shot just by knowing him."
New York's
Robert Kolker writes. "It was the same old Dennis," Joseph says. "Easygoing: 'Everything's going to be all right.' A sweetheart. He stood up for this country and the war. I looked up to him—respected him for doing it." Joseph knew that Malvasi was still involved with the pro-life movement but he looked the other way. It seems as though he just didn't want to take Malvasi down from his war hero pedestal. But then Malvasi got romantically involved with Loretta Marra, and his ties to the craziest fringe of the pro-life movement intensified. Kolker describes a speech Malvasi gave to the White Rose Banquet, "the ultimate radical pro-life trade show." You see, because Malvasi had actually bombed abortion clinics he was a hero to the Banquet attendees. Loretta helped him write his speech, which is quite an evil piece of work."One favorite [saying] is, 'Violence never solves anything,'" Malvasi told the group. "Of course it does. It solves all kinds of problems. And just men have used it as a tool throughout history.…[I salute] the noble work of supporting your local baby-defender, from lock-gluers to bombers…arsonists, and snipers. Your help makes all the difference in the world—to the babies themselves." Malvasi and Marra eventually married, and they would go on to help murderer James Kopp evade police. Though the article is framed as "Why did Joseph turn in Malvasi?" (duh, because he thought murder was wrong and there was a $1 million reward), the more interesting question is how did Malvasi go from "the kind of kid everyone else wanted to be — the funny one, the street-smart one, the handsome one with a natural swagger" to unrepentant potential murderer? Kolker attempts to answer that question by plumbing a screenplay that Malvasi had written, loosely based on his own life:
In the screenplay, as in life, the cardinal comes forward to plead with our hero to surrender. But in Dennis's script, the cardinal is a patsy, duped by law enforcement to lure Danny into the hands of a malevolent government. The movie of Dennis's life concludes with the hero walking into the trap, but at least his conscience is clear. "I've always followed my heart," Danny says at the end, on his way to prison. The cardinal is wrong. Danny—Dennis—is a martyr.
Mercenary For Justice
[New York Magazine]