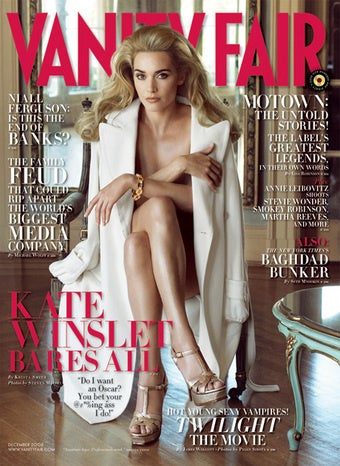 Kate Winslet is half-naked and channeling Catherine Deneuve on the December issue of Vanity Fair , looking every bit the untouchable, aloof, perfect Hollywood superstar: The cool, iconic, mysterious blonde. Two years ago, Winslet, at age 31, became the youngest actress ever to earn five Oscar nominations. But as Krista Smith writes in her thorough and illuminating and cover story , Kate Winslet is not your typical showbiz diva. "Winslet exhibits a refreshing lack of pretension," writes Smith. "Hang around her for five days or only five minutes and you get the same woman: unfiltered, frank, sometimes blunt." Winslet is especially forthright about her body, which has never been the stick-thin physique often required of leading ladies:
"This is going to sound really weird," she muses, "but I never had a desire to be famous. I never had huge ambitions-never.… I was fat. I didn't know any fat famous actresses. I just did not see myself in that world at all, and I'm being very sincere. You know, once a fat kid, always a fat kid. Because you always think that you just look a little bit wrong or a little bit different from everyone else. And I still sort of have that. I often look at women who wear great jeans and high heels and nice little T-shirts wandering around the city and I think, I should make more of an effort. I should look like that. But then I think, They can't be happy in those heels."
At some point in her life, the 5'6" actress weighed almost 200 pounds; she's since had two kids and now says of her workout: "Everyone can commit to 20 minutes, especially if there's a glass of Chardonnay afterwards." While her attitude may set her apart from other actresses, Winslet does exhibit some Hollywood-esque behavior, especially when it comes to her new film,
Revolutionary Road
, for which she teamed up with her
Titanic
costar, Leonardo DiCaprio. She hopes it will earn her an Oscar. "Do I want it? You bet your fucking ass I do! I think that people assume that I don't care or don't want it or don't need it or something. It's hard to be there five times, and I'm only human, you know? But I don't go home and cry, because we're all grown-ups here."
Isn't She Deneuvely?
,
Lady In Waiting (slideshow)
[Vanity Fair] Related:
Revolutionary Road (trailer)
[IMDB]