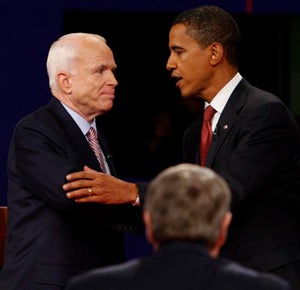 With
voter registration at an all-time high
,
turnout expected to be close to an all-time high
and
more than a few absent absentee ballots
worrying their supposed owners, many people are concerned that that
other
one might yet be able to squeak out a win — due in no small part to widespread suppression efforts, voter purges and general fuck-uppery. After the jump, a guide to what's been going on in a number of swing states. (And, don't forget
our advice on how not to get caught up in it
.)
Colorado
After reports surfaced that Republican Secretary of State Mike Coffman had purged tens of thousands of voters from the rolls in Colorado within the sacrosanct 90-day time period in which purges are illegal, he was sued to add the voters back in. This week,
a federal court forced Coffman to not only add those voters back onto the rolls
, but to grant their provisional ballots special status. When one of the purged voters files a ballot, the state has to actively prove that they
don't
qualify to vote or else count the ballot.
Florida
The grandmother of voter suppression efforts by the GOP,
early voters are turning out in record numbers here
, too, hoping to avoid a repeat of the 2000 election. Most of them say they're hoping that if their votes get screwed up, voting early will give them time to fix things. Of course, machine breakdowns and ID-verification ended up slowing the process down, which means that early voters have hurried up to stand in line anyway. Despite GOP concerns that early voting could cost them the election,
Republican Governor Charlie Crist ordered early voting locations to stay open longer
to accommodate the unexpected surge.
Georgia
In a state seeing unprecedented voter turnout, particularly in African-American communities, and
with scores of people voting early
(as much as 40 percent of the total 2004 turnout), it's worth nothing that the Republican Secretary of State, Karen Handel, "flagged" as many as 55,000 Georgia voters for additional review prior to the election.
While the courts told her to notify the 4,500 flagged for citizenship review that they were eligible to vote
, there's no word on the other 50,000 people she's trying to kick off.
Michigan
Michigan has a system that sends newly registered voters cards to confirm their registration. Since 2006, about 5,000 of those cards were returned as undeliverable, and the state threw those voters off the rolls with no other evidence. This week,
a federal appeals court ordered the state to re-enroll those voters
, insisting that the state law does not require the receipt of the notification card, so the state can't declare them not registered. Those (and other voters) can still face a request for proof of residency at the polls.
Ohio
Ohio, the biggest, swingiest state of them all, has also been a hotbed of voter purges, new registration and Republican activity this year. As
mentioned before
, Ohio Republicans attempted to force Democratic Secretary of State Jennifer Brunner to throw people off the rolls and stop allowing voters who registered after the early voting period had started to vote; Brunner declined and the Supreme Court sided with her. Bush even
tried to get the Department of Justice to weigh in on it
, but AG Michael Mukasey decided he didn't want to end up a Gonzales-style legal outcast and declined. Nonetheless,
most observers expect that Ohio will be the biggest clusterfuck of this election season
(possibly even surpassing Florida in 2000), full of legal challenges, fraud allegations, suppression allegations and general stupid political shit that has nothing to do with anything. Should be fun.
Pennsylvania
The state of Pennsylvania went to court to argue that it didn't need to provide voters with paper ballots — despite all this talk of record turn-out — unless
all
of the machines in a polling place fail.
Judge Harvey Bartle ruled
that if half of the machines in a polling place break, the state has to provide paper ballots to voters. The state decided against appealing the decision, apparently realizing that forcing voters to stand in long lines to all use one functioning machine is probably not the best plan.
Virginia
The Virginia NAACP filed a lawsuit against Democratic Governor Tim Kaine this week
, alleging that the state was failing to provide enough voting machines at minority voting places and asking the judge to force them to try to keep wait times to 45 minutes. They withdrew their request for a temporary injunction yesterday after negotiations with Kaine's administration, but
the lawsuit remains active
. People trying to take advantage of in-person absentee voting in Northern Virginia locations like Arlington
have had to wait as long as 90 minutes this week
. Worse yet, an anonymous group has been
distributing flyers in Democratic precincts
intended to convince voters that the day for Democrats to vote in November 5th.
West Virginia
After numerous complaints from voters that touch screens were flipping their votes for McCain, Jeff Waybright, the Jackson County clerk, attempted to explain away the errors and improperly calibrated machines.
He demonstrated
how it might look that way when a machine was improperly calibrated, and then calibrated the machine. It promptly failed to do what it was supposed to. So, if you live in West Virginia, review your votes
carefully
and take your paper record.
Voter Registration Smashes Records
[MSNBC]
Concern Mounts Over Expected Voting Surge
[CBS]
Some Voters Still Waiting On Absentee Ballots
[CNN]
Colorado Agrees to Restore Voters to Rolls
[NY Times]
How Early Voting Could Cost McCain Florida
[Time]
Gov. Crist Extends Early Voting Hours statewide
[Miami Herald]
Black Voters May Lead Democratic Wave
[Salon]
Thousands Of Flagged Voters Can Vote, Court Rules
[CNN]
Michigan Loses Appeal Over Voters Rolls
[MSNBC]
Ain't Like the Old Days
[Talking Points Memo]
In Tight Race, Victor May Be Ohio Lawyers
[NY Times]
Judge: PA Must Have Paper Ballots Ready If Half Of Machines Fail
[CNN]
Va. NAACP Sues Virginia Governor Over Election Readiness
[AP]
NAACP Drops Voting Lawsuit
[Richmond Times-Dispatch]
Delays Abound in Early-Voting Surge; Predictions of High Turnout, Confusion
[Wall Street Journal]
Phony Board Of Elections Flier Tells Virginia Democrats To Tote On November 5
[Think Progress]
West Virginia Vote Flipping Allegedly Caught On Tape
[Huffington Post] Earlier:
There's Nothing Some Fear More Than Citizens Exercising Their Constitutional Rights
Voter Suppression And You: A Guide For Unreal Americans