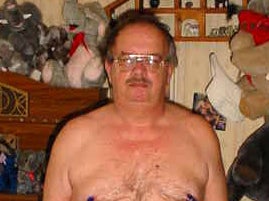 Of the many, many differences between men and women, the bedroom is one place where there are
definite
contrasts. I'm not talking about sex; I'm talking about the actual décor of the boudoir. From sheets to artwork, it seems that men are so much more likely to make horrifying choices. And if you check out these (extremely NSFW... or life) shots from
Lurid Digs
, a site which collects pics used for online dating and critiques the interior design (seen on
Ephemerist
, linked from
Lady Bunny
's blog), the interiors where these men are standing?
Not sexy
. Let's focus on the gentleman at left: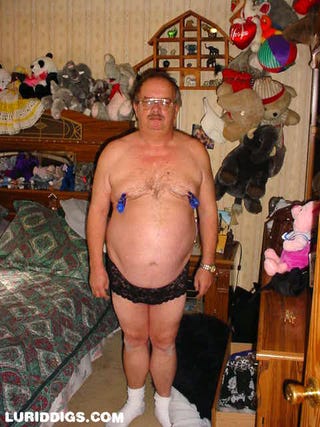 It's clear that he has sex on his mind. But when he's NOT thinking about getting laid, it seems that he enjoys stuffed animals. Elephants, especially. Plus, he's got quite a few tiny elephants in that
charming
wooden hutch behind him. I refuse to acknowledge the hideous bedspread. But honestly, people: Would you want to have sex in this room?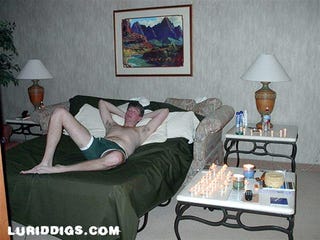 Here's another gentleman from Lurid Digs. The Candles are a romantic touch. Everything else screams "Marriot Courtyard." Which could be sexy, but in this case, simply isn't. I'm not a total diva: I don't need satin sheets or 300 thread count (though it would be
nice
.) But I once dated a guy who was really into
Planet Of The Apes
. Do you know how hard it is to feel turned on when
Cornelius
is staring at you? Anyway, these images got me thinking: What was the most hideous bedroom you've ever been in? Have you ever been in a guy's bedroom that was so awfully decorated that you could not have sex there? Have you experienced décor-as-prophylactic??? Spill, please!
Lurid Digs
[Official Site - NSFW]
Boudoir Lulz
[Ephemerist]
Adult Interior Design
[Lady Bunny]