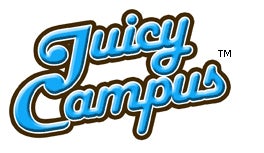 Matt Ivester, the creator of the gossip website JuicyCampus.com, spoke at Georgetown University on Tuesday night. The independent student paper
GW Hatchet
describes
the auditorium, filled with students, as "tense." Ivester answered student questions for the first time; the student government would like the site banned from the school's network. But Ivester, whose site has posts with titles like "Biggest Whores" and "Sorority Sluts,"
tells
the
Washington Post
: "I think they're going to have to start developing a sense of humor."Anyone can post anonymously on JuicyCampus. But when someone lists the "biggest sluts" at Oklahoma State — using first and last names — the posters are unknown, but the women being gossiped about are not. Writes Susan Kinzie for the
Washington Post
, "It's not unlike the bathroom wall at a dive bar, except that anyone, anywhere, can read it. And it never gets erased or painted over." Ivester says his site is not breaking any laws, and he hopes to add photos and video soon. The problem is that some students, especially at Georgetown, where many go into Foreign Service or government, worry: Is stuff on this site going to keep me from getting a job? Supposedly, the site is coded so that the content doesn't get picked up by Google searches. But still. "The fact is," Ivester told the students in the auditorium Tuesday night, "the Internet is changing privacy as we know it." Whether or not this is true, it just seems like this guy's business model involves humiliating women. Should people be allowed to anonymously post possibly erroneous "gossip" about their classmates, using their full names?
Juice, the Whole Juice and Nothing but the Juice
[Washington Post]
'Juicy' Creator Defends Site
[GW Hatchet]
JuicyCampus.com
[Official Site]