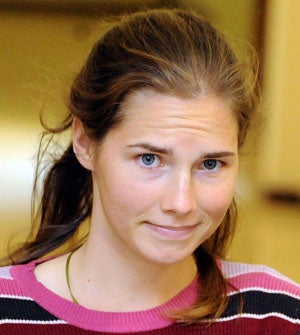 Despite a
distinct lack of hard evidence,
Seattle native Amanda Knox, 21, will stand trial for the murder of her study abroad roommate, Meredith Kercher, in Perugia, Italy. Yesterday, after 12 hours of deliberation,
Rudy Guede
was convicted of Kercher's murder, and sentenced to 30 years in prison. Guede was tried separately from Knox and her former boyfriend, Raffaele Sollecito, who also stands accused of Kercher's death, because Guede and his lawyers feared that Knox and Sollecito would conspire against him.If you'll recall, Guede had the most
damning evidence
against him, as his bloody handprint was found beneath Kercher's dead body. If Guede has been convicted, why are Knox and Sollecito still being brought up on charges? According to
Time
, "Knox's sexual history has been widely reported, with prosecutors linking her past to their allegation that the victim was forced into an orgy. (Even last week, Italy's leading daily Corriere della Sera reported that Knox had to fend off lesbian advances of a fellow prisoner.)" In addition, prosecutors believe that Knox and Sollecito held Kercher down while Guede attempted to rape her. Besides Knox's "slutty" past and some circumstantial evidence (like Knox's DNA found on the knife that killed Kercher — a kitchen knife from their shared apartment that Knox would have used for cooking), there is no clear reason why prosecutors have stumbled on this particular series of events as the explanation for Kercher's death. Meredith Kercher's poor family
is mildly heartened
by Guede's conviction. "It's important to remember that at the end of day we're here because our sister Meredith was murdered. 'Pleased' is not the appropriate word, 'satisfied' is the best we can say," Meredith's brother Lyle told reporters. When Amanda Knox heard she would be standing trial for Kercher's murder, she burst into tears. For now, her lawyers are trying to get Knox out of the Italian prison where she's been held for the past year and into a hostel run by a Catholic charity. If she's found innocent, as at this point is truly seems she is, I hope Knox gets a boatload of money to write a memoir about this surreal and awful period of her life.
'Foxy' Amanda Knox to Stand Trial in Italy Murder
[Time]
The Accused
[Radar]
Meredith Kercher's Family 'Satisfied' After Drifter Rudy Guede Is Jailed For 30 years
[Telegraph] Earlier:
Murder Suspect Amanda Knox Accused Of Satanic Orgy Plot