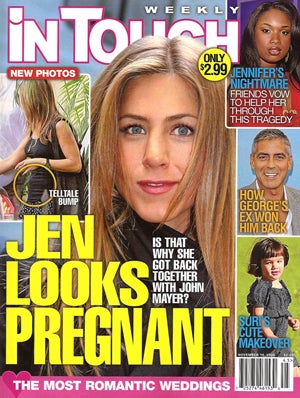 Welcome back to Midweek Madness! This week, the Jennifer Aniston soap opera drama continues: According to
In Touch
, she looks pregnant;
Star
says she's planning a wedding, and
OK!
claims she had a "SEXY DATE" with Gerard Butler. As for Angelina Jolie, she's on two covers this week: Blissfully happy on
OK!
, with a wedding and another (adopted) kid on the way; humiliated and betrayed on
Star
, because Brad's been flirting and carousing in Berlin. As for Jennifer Hudson's family tragedy, while it was covered in all of the weekly tabloids, only
Us
put J. Hud as the main image on the cover.
Life & Style
went with a Carrie Underwood/Jessica Simpson skinny vs. curvy "battle." Intern Margaret assists as we rummage through
Star
,
Us
,
OK!
,
In Touch
and
Life & Style
, looking for tricks and treats, after the jump.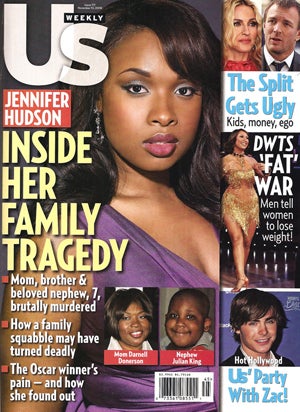 Us
"Inside Her Family Tragedy." Honestly? Too sad to read about J. Hud's awful triple murders. Also, the latest news is that kid had his
hand hacked off
. What else was inside?
Dancing With The Stars
' Maksim Chmerkovskiy was quoted saying that his costars Lacey Schwimmer and Cheryl Burke needed to do something about their weight, but now he says that his words were taken out of context: "I want them to know that I wasn't calling them heavy, because they aren't." Lastly:
Michael Kors and Nina Garcia are only going to be in five or six episode of the new season of Project Runway.
Celebrities will fill in the rest of the time. Plus! Mood fabrics has an L.A. branch, but it was too far from the filming site, so producers "simply placed a Mood sign on a different storefront." WTF?
Grade: F (razor blade-filled apple)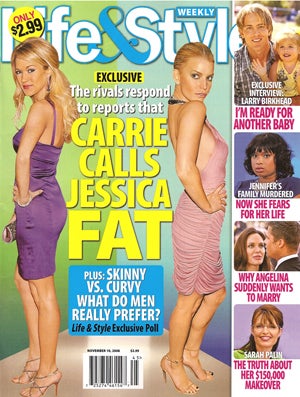 Life & Style
"Carrie Calls Jessica Fat." Intern Margaret says, "It's not that there wasn't stuff in this magazine, it's just that the stuff in there made me want to vomit." Here's the deal: A "friend" of Carrie Underwood's said that Carrie has been sniping about Jessica Simpson's body. Carrie thinks Jess is attractive but wouldn't want to be "so buxom and top heavy." A "pal" of Jessica's says her current stylists don't know how to dress someone with big boobs. Jessica says: "I dress for men
and
myself. If I'm dressing for men, then I know it's good for myself." Um. Okay. Then the story spins off into a
four-page battle of "skinny vs. curvy"
— side by side pictures of women, sometimes battling themselves. The magazine talks to men — Zac Efron, Penn Badgley, Christian Siriano! — and asks them which they prefer. One guy actually says, "A hybrid of skinny and curvy would be the ultimate." It's such a mindfuck (Fig. 1, 2). Travis Barker had dinner with his daughter; he's out and about a little bit.
There's a six page "exclusive" with Larry Birkhead called "Saying Goodbye To Anna Nicole."
It involves staged pictures of Larry and baby Dannielynn packing up all the pink stuff in the house. They're moving because there's no backyard. Lastly, in a new section called "Dr. Rey's Casebook," Dr. Robert Rey from
Dr. 90210
"weighs in on which A-list assets deserve top billing, and which ones could use a little work." He says Heather Graham needs a boob lift and Cameron Diaz would look better with Lindsay Lohan's chest.
Grade: D- (tooth brush)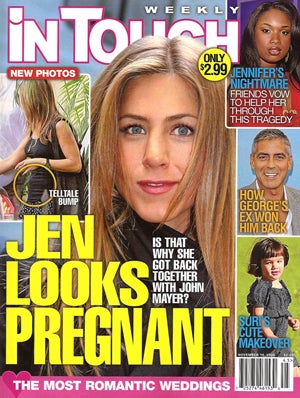 In Touch
"Jen Looks Pregnant." Apparently it is cover-worthy news that
some people think that Jennifer Aniston's tummy looks enlarged and she's been hiding it
(Fig. 3). The magazine notes that "all of her friends have kids." Also,
if it's John Mayer's baby, "it would explain why they are back together."
Moving on: Reese is finally ready to marry Jake Gyllenhaal. A "pal" says she is "not a very spontaneous person" and the wedding will happen "in 2009." Very specific!
There are two pages called "Why Won't Tom & Katie Put A Coat On Suri?"
(Fig. 4). George Clooney is back with ex-gf Krista Allen because she is "independent" and "not clingy." A-Rod sent Madonna a 22-karat gold bracelet with a single charm that reads "bashert," which reads "meant to be" in Yiddish. They're planning to spend Thanksgiving together. Angelina went to Afghanistan on October 21 to visit refugees left homeless by the fighting against the Taliban as part of her work as a UN Goodwill Ambassador. She cried. Lastly, everyone in Hollywood is wearing the Black Halo Jackie O. dress (Fig. 5).
Grade: D (marshmallow "circus" peanuts)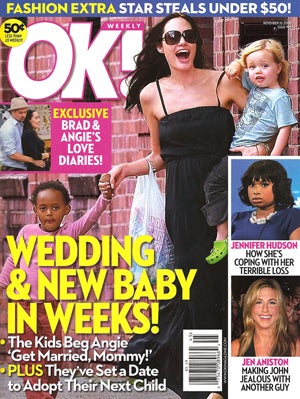 OK!
"Wedding & New Baby In Weeks!" So,
if
Brad and Angie get hitched, it wouldn't be a "big, white affair" says a "family friend." It will be "very elegant, though" with "vows they write themselves." And it will either happen at the French chateau or in New Orleans. Expect no more than 25 guests: Jonny Lee Miller, Brad's mom and dad, James Haven. The same friend says,
"To Brad and Angie, marriage is a piece of paper."
Moving on: The story titled "Jen & Gerard's SEXY DATE" informs us that Ms. Aniston and Gerard Butler are in talks to star in a comedy together. Fourteen-year-old Mark Indelicato, who plays Justin on
Ugly Betty
, is gonna be Hannah Montana for Halloween. "I'm going to get a Hannah Montana T-shirt, the wig and the guitar that sings," he says. "It's going to be awesome." Oh,
Tyra was a bully! "In elementary school, I was a mean girl," she says.
"I would kick girls out of our group and make them go play with the non-popular kids. I was pretty bad." Nick Cannon was DJing a party in New York, and ten minutes into Nick's set, Mariah snuck out to talk to Donatella Versace. "She clearly wasn't into Nick's music at all," a source says. Page 59 asserts that Tina Fey's 3-year-old daughter Alice wears a $1300 Judith Ripka pearl necklace. Tina, say it ain't so! Or maybe it was a gift???
Grade: D+ (stale candy corn)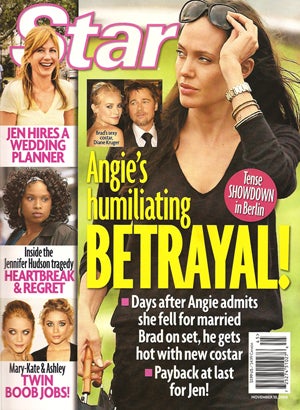 Star
"Angie's Humiliating Betrayal!"
Brad Pitt has been flirting with his Inglourious Basterds costar, Diane Kruger.
They were in
Troy
together, but she was married back then! Angelina is scared that Brad is gonna do to her what he did to Jen.
Plus, Brad went on an Oktoberfest bender with Quentin Tarantino, which Quentin called their "whores and beer" night.
There's no confirmation that whores were in attendance, btw. Brad came home super late and he and Angie got into a "screaming match." She told him she'd leave if he started up with Diane. Moving on: Blind item! "Which reality starlet had a blonde moment and forgot to turn off her mic in the bathroom? No, the crew couldn't hear her flush, but they
could
hear her do a few lines of coke." Funny headline: "Parents To Miley: Don't End Up Like Jamie Lynn!" Another great headline: "Twin Peaks: Mary-Kate & Ashley Battle Over Matching Boob Jobs."
Ashley Olsen wants to get implants, so she asked MK to get them at the same time, so it wouldn't be as obvious that she got work done.
A source says: "That way they could say they both matured and are filling out naturally." They are 22. MK was horrified and said no way. They've already had nose jobs, btw (Fig. 6). Katie Holmes has a crush on her
All My Sons
costar, Patrick Wilson. He's married. Tom has bodyguards around Katie at all times; they spy on her and report back to him.
Jennifer Aniston has hired a wedding planner!
Last week she popped the question to John Mayer, now she's planning her ceremony. She says she's meeting with celebrity wedding planner Mindy Weiss to plan a 40th birthday party, but
Star
says Aniston's working on a beach wedding in Los Cabos, Mexico. She wants people doing tequila poppers and listening to a mariachi band.
Jen wants to wear a simple white dress with flowers in her hair; a flowing "Mexican peasant" look.
Coco Cox-Arquette will be the flower girl. Pete Wentz will be the best man. Lastly, there is a 5 page feature on laundry tips with pictures of stars picking up their dry cleaning.
Grade: C (generic chocolate bar)
Fig. 1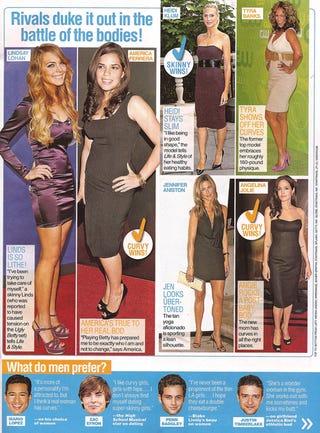 Fig. 2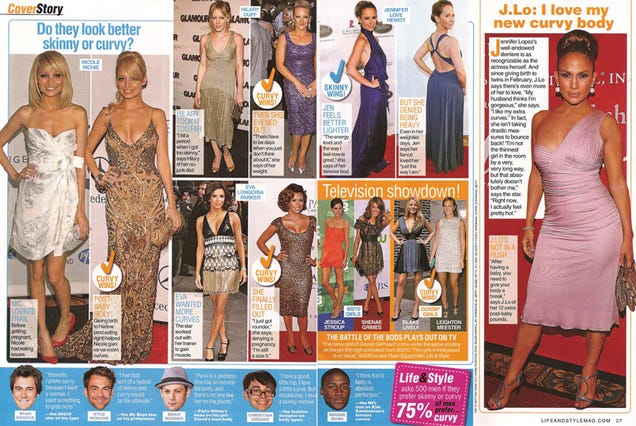 Fig. 3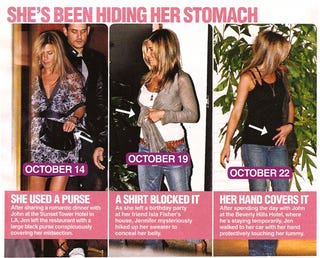 Fig. 4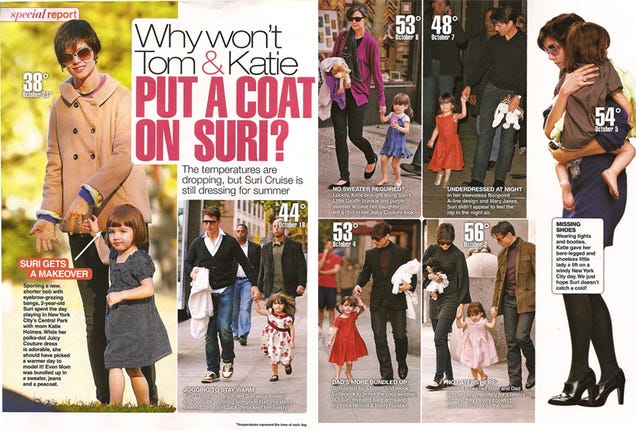 Fig. 5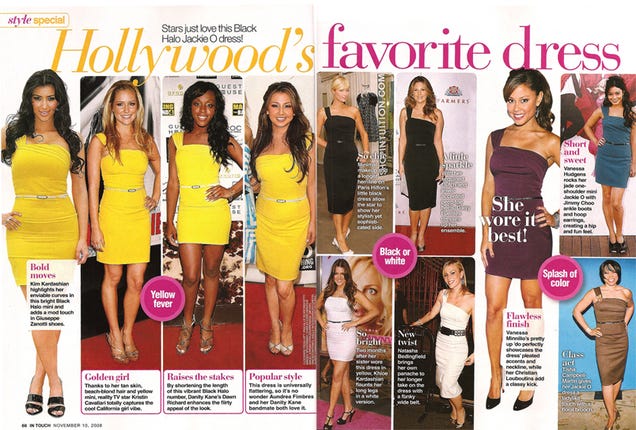 Fig. 6