Ever since the premiere of
The Real Housewives of Atlanta
, people have been dying to know the identity of Kim's boyfriend "Big Papa," a man who plunked down $70,000 for an Escalade, and picks up the tab of her Dior home shopping deliveries. On last night's episode, she bought a $14,000 diamond bracelet at a charity event and called him to thank him. She says that he "prefers to remain a mystery" because he's a "celebrity." However, the internet has been abuzz with rumors of who the real Big Papa could be. We think we finally figured it out. Check for his picture after the jump.According to numerous blind items and internet rumors, Kim's boyfriend isn't really a celebrity, but rather a well-known figure in the Atlanta community. The
gossip
is that he's a wealthy commercial real estate developer, who is neither white nor black, and who prefers to remain a mystery because he's
married
. In the second episode of the season, Kim's BlackBerry screen is revealed and she has a number of text messages from someone named Lee, including this message: "Miss U." Astute viewers have surmised that this man must be Lee Najjar. Here he is in a picture with Ne-Yo and his wife, who ironically, is also named Kim.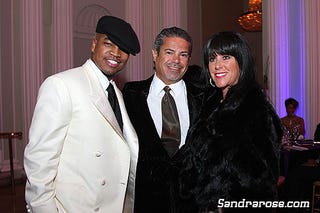 Another interesting tidbit is that Lee Najjar has a son named Jared who is close friends with Brody Jenner and Spencer Pratt. In this article from
Details
, Jared is referred to by Brody et al as "The Godfather," and he supposedly has supplied Jenner and Pratt with a Rolls Royce and a Bentley:
"He's the only 24-year-old kid I know who has a Black Card," Jenner says. As a believer in the Brody Brand, the Godfather, heir to a commercial-real-estate fortune, is helping finance Jenner's "lifestyle" line, Archangel, which consists of "pieces" like a $92,000 skull-and-diamond wallet chain.
So it would appear that the apple doesn't fall far from the tree, when it comes to bankrolling the lifestyle of reality TV mooches.