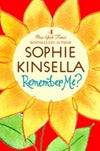 REMEMBER ME?
is the New York Times bestseller from the author of Confessions of a Shopaholic. Lexi Smart woke up with the perfect life, but no memory of how she got there. "A delicious page-turner, filled with both hearty chuckles and heartache."—USA Today. CHECK OUT AN EXCERPT AND ENTER TO WIN A COPY OF THE BOOK. Send a note to
contests@gawker.com
with "Remember Me" in the title and enter to win a copy of the book.
The usual rules apply.
Chapter 1 of "
Remember Me?
"