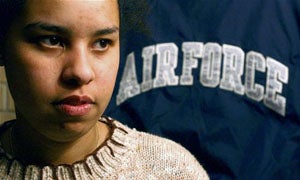 According to data just released by Veterans Affairs researchers,
one in seven women
deployed to Iraq and Afghanistan report being sexually harassed or assaulted during their military service. In addition, these sexually assaulted women (like former Air Force cadet Jessica Brakey, pictured) are
almost 60%
more likely to suffer from mental health problems than the average veteran, according to
USA Today
. Rachel Kimerling of the National Center for Posttraumatic Stress Disorder at the VA center in Palo Alto tells the
LA Times
, "If you think about military service where you are living and working so closely with the same people, that even if it is not sexual assault ... it is possible that severe sexual harassment is just as traumatic."As
previously reported,
many female soldiers are reticent to report sexual assault while it's happening for fear of being ostracized. "A typical scenario is it's either a supervisor or someone at her level, in the same military unit. If you come forward, you're tattle-telling on a comrade,"
USA Today
notes. All service branches are expanding their sexual assault prevention programs, says Kaye Whitley, who heads a pentagon office created to address these issues. Next year, according to
USA Today
Whitley will be launching an effort to educate 18- to 24-year-old men about assault prevention. The VA report does not specify whether or not the perpetrators of these sex crimes were from the armed forces or if they were one of the many independent contractors in Iraq. If you'll recall, many of the female contractors in Iraq and Afghanistan,
most notably the brutally gang raped Jamie Leigh Jones
, also suffered a great deal of sexual trauma in the field. However, the pull of being ostracized is still going to be strong for many female soldiers. The VA survey detected such a high percentage of assault because all patients seeking medical care at the VA hospital are directly asked if they've been sexually assaulted. "They may not tell if they are not asked about them," study co-author Amy Street tells the
LA Times
. What's interesting is that the rate of sexual assault among deployed women in the armed forces is slightly lower than the rate of sexual assault among VA health care users overall. 21.5% of all women in the armed forces suffered from sexual assault or harassment, says Street, but researchers are not entirely sure why.
Sexual Abuse Rates Of Deployed Female Soldiers Detailed In Study
[Los Angeles Times]
15% Of Female Veterans Tell Of Sexual Trauma
[USA Today]
Sexual Trauma Afflicts 15 Percent Of U.S. Veterans: Study
[Reuters] Earlier:
US Army Finally Vows To Prevent Sexual Assault In Its Ranks
Jamie Leigh Jones