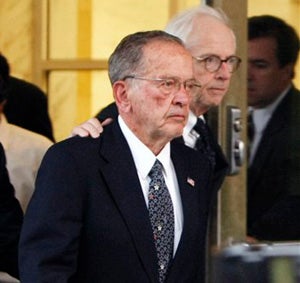 A bunch of hateful racist asswipes tore down the sign marking the location in Tallahatchie County, Mississippi where authorities recovered Emmett Till's body in 1955. Emmett Till was the 14-year-old victim of a vicious, racist attack for which the two white guys who admitted to it were later acquitted by an all-white jury. Police think the racist vandals might have chucked the sign in the river. What the fuck is wrong with people? [MSNBC]
Just in case you didn't know, the bullshit line of the religious groups trying to get Proposition 8 passed in California is that it will be the end of religious freedom because it will force them to marry gay people. Of course, Catholics churches can refuse to marry non-Catholics and every other religion can impose rules and whatever, but logic is totes overrated. [NY Times]
Oh, and the Yes on Prop 8 hatemongers are attempting to blackmail California businesses into supporting their cause by threatening to expose their tolerance to homophobes that would boycott them. [KFMB]
A self-identifying Republican launched a series of robocalls against incumbent Republican Mike Thompson inspired by phone sex. It's, um, creepy. [Huffington Post]
The lady who survived her mother's attempt to abort her has another anti-Obama ad up. If you thought McCain was condescending in the debates, try her on for size. [Politico]
But 7 members of the cast of The Wire are going to be campaigning for Obama in North Carolina tomorrow. That's about all I got for uplifting news, sorry.