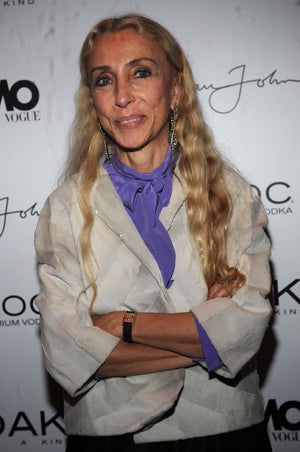 While some may think of fashion — and fashion magazines — as shallow, Franca Sozzani says, "Fashion is not only about clothes." She believes that there are ways for the fashion business to be less superficial: To explore concepts and social awareness. Franca Sozzani created July's "all-black" issue of Vogue Italia, which addressed the lack of black models in fashion. And she has another groundbreaking idea for the November issue of L'Uomo Vogue , of which she is also the editor: The magazine will be dedicated to Africa , and half of the advertising revenue will be donated to Africa-related charities, reports Robin Givhan for the Washington Post .Givhan writes that Sozzani:
…wanted to focus on people, projects and ideas. She did not want to make an aesthetic statement about Africa. So she didn't fill the magazine with images of Western models in overpriced vaguely ethnic frocks. And unlike a recent issue of India's Vogue magazine, which sparked outrage among activists and humanitarians, this one won't show peasants posing with $5,000 handbags.
Says Sozzani: "I think it's ridiculous to see a 16-year-old wearing clothes he'll never afford at his age." The issue will feature men — and some women — in their own clothes, showing off their own style: Forest Whitaker, Quincy Jones, John Legend, Matt Damon and Michelle Obama. All will be expressing their personal connections to Africa. As Givhan points out,
L'Uomo Vogue
is an insiders' magazine that designers, photographers and creative directors read. "It speaks to the folks who define beauty and who then tell us whether we meet those standards." So even though Sozzani's not making a statement that a mainstream audience would consume,
tastemakers
for those people will see the magazine. But is Sozzani's "Africa" issue a gimmick to generate buzz? Or an honest effort to address issues besides the "it shoe"? And if half the money is going to charity, does it matter?
Deeper Meaning Below A Glossy Surface
[Washington Post] Earlier:
Italian Vogue Shocks, Awes, Makes Civil War Sexy
LOLVogue: Sheez Over Ayteen, I Sware
Italian Vogue's "All Black" Issue: A Guided Tour