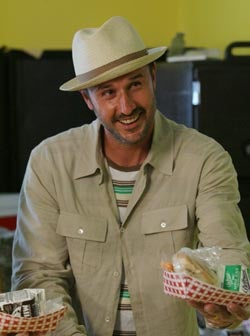 David Arquette starts fashion line. With Ben Harper. It involves "cuffed trousers cut out of cool chambray, vests accented with bow snaps, minidresses screen-printed with clusters of chubby birds and ruched boyshorts for bikini sets. The palette is intended to be timeless in navy, red, white and yellow." [WWD]
SNL's costume designer on Palin: "In speaking with her, I had to get her to understand why she needed to wear the same thing as Tina. We had gone off and created it for the first time a month ago, a look we identified as Sarah Palin. She had moved on in her own image of herself. I said, 'I know you've moved on, you're wearing tighter clothes, more black,­ but this is the character of Sarah Palin.'' [WWD]
Sarah Palin wigs top-sellers amongst Orthodox women! [NY Post]
RNC says that of course all $150,000 worth of donation-funded Palin togs will go to charity. "'All of the clothes purchased by the RNC (not the campaign) will be donated,' the RNC's campaign spokeswoman, Marie Comella, tells WWD. 'The RNC purchased the items, continues to own them and will donate them at the conclusion of the campaign.'"