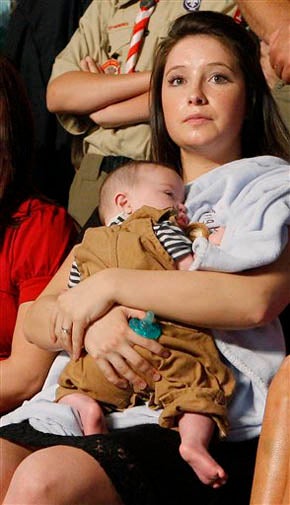 Many former teen mothers are
dismayed
at what they perceive to be a exaltation of teen pregnancy in pop culture. Evelyn Rodriguez, 34, who had a son at age 15 and is just now getting her college degree tells the
AP
, "[Teen pregnancy] has been glorified all over the place." Rodriguez believes lower income girls might see Jamie Lynn Spears and Bristol Palin and think, "'Oh, wow, they're doing it, it's cool.' But it's not cool. I've been through it. It's a job. I don't appreciate what's going on out there making it seem so beautiful, when it's not." Lausell Bryant, the executive director of Inwood House, a NYC nonprofit that takes in pregnant teens says that government support is hard to come by for her organization. "These girls are seen as to blame for where they are…It's a double standard. If you're a poor kid of color, it's a bad thing. If you're affluent and white, it's not so bad."The research shows that the vast majority of pregnant teens do not have the financial and familial advantages of Bristol Palin and Jamie Lynn Spears. According to Saul Hoffman, a University of Delaware economist who has just written a book,
Kids Having Kids: Economic Costs and Social Consequences of Teen Pregnancy
, "The children are more likely to be in foster care, less likely to graduate from high school…The daughters are more likely to have teen births themselves, the sons are more likely to be incarcerated." In addition, Hoffman calculations show that teen motherhood costs American tax payers $7.6 billion a year. He also notes that the dire effects of teen motherhood drop a great deal if a woman delays childbirth by just a few years. As
previously reported
, only 40% of teen moms graduate from high school, and a recent event
in Nebraska
is a stark reminder that not all teen pregnancies are wrapped up neatly like an episode of
Zoey 101
. A 16-year-old teen mom took advantage of Nebraska's "Safe Haven" law, which t allows parents to abandon their children without repercussions. But here's the twist: she was using the Safe Haven law "not to abandon her baby, but to get help for herself and her son. The girl, who was escorted by an aunt last week to Immanuel Medical Center in Omaha, told a social worker that she was kicked out of her mother's home," the
AP
reports. "She also said that she had been emotionally abused and suffered physical harm." Sarah Brown, director of the National Campaign to Prevent Teen Pregnancy, tells the
AP
, "We are, as a society, uncomfortable with sitting down and having conversations about what we expect…When is the last time we said, as a culture, 'Babies need adult parents?'"
Teen Motherhood: Celebrity Buzz Belies Its Cost
[AP via CBS News]
Neb. Teen Mom Seeks Safe Haven For Baby, Herself
[AP via Brattleboro Reformer] Earlier:
Ask Not What Bristol Palin Can Do For You, Ask What Sarah Palin Can Do For Your Pregnant Daughter