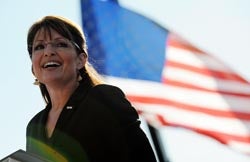 Since the world learned that hypocritical hockey mom heroine Sarah Palin has spent $150 grand of RNC cash at high-end department stores for herself and her family at a crucial point in the campaign — to say nothing of an economic recession — an overwhelming amount of ink, thought and Texas Instruments battery power has been spilled on reporting, analyzing, deconstructing, undressing, calculating, replicating and critiquing what's come to be known, in the unavoidable parlance of our times, as "Fashiongate." Well, here's
our
guide to the Spree of the Century:How do you like your coverage? We've got everything from the
straight
to the
analytical
to the
gleeful
to the
disgusted
to predictably
defensive
statements by the McCain campaign. We've got commentary from other
women in the public eye
,
stylists
and
prize-winning fashion writers
. And then of course there are all the servicey pieces! From high end — replicating Palin's spree at
Saks and Neiman's
(
several
times),
attempting to spend
$150k, to low end — creating her looks at
Loehmann's
and
Wal-Mart
!
HuffPo
helpfully puts the expenditures in terms of the average plumber's salary, ratio of clothes to Edwards-haircuts, typical American clothing budgets and "the cost of health care for 15 or so people." There are also
polls
and analyses of how much this would undercut her image, and
photo essays
of her ensembles. For all this, the funny part is that there's really not that much to say. Here's the gist. Palin spent
a ton
on clothes, more than anyone can justify, even given arguments for the increased scrutiny on female politicians. She seems to have done so at a deliberate moment post-convention, once her Real American credentials had been established. She looks
pretty good
. But the timing could not be worse (global economic crisis, anyone?) and it flies directly in the face of her average Joe Six pack, hockey mom appeal just when the McCain campaign was trying to push a common touch agenda. Consensus? Republicans are pissed at the stupidity, McCain is
pissed
at having to talk about it, and whatever the eventual fallout, it's not good for them. So, was it worth it? No. Obviously not. She doesn't look that different, she's undercut her sole selling point, and made herself look even more ridiculous. What was the RNC thinking? Having beaten the $400 haircut drum and played the elitism card with such enthusiasm, who could possibly have green-lighted this kind of excess, even were the economy not in free fall? Were they trying to make the most of her looks? Sure. Were they hoping to make her look like a politician? Probably. Was this shopping spree some kind of grotesque hail mary, a kind of attempt to bolster a crappy show with lavish sets and costumes? (And yes I know that's like five metaphors.) What's ironic about this is that in the past, Republicans have successfully marketed rich men of privilege like Reagan and George W. Bush as simple men of the people. And yet, they've taken a Sarah Palin and dressed her like a rich person! I keep thinking about
Stylista
, the new show where magazine sophisticates whip kids into stylish shape. "Wearing the right label doesn't make something right," they say at one point to the designated villain. Meanwhile, the girl showing too much cleavage wails that she "loves her clothes" and "loves the way she looks in them," while the others pressure her into wearing something more tasteful and appropriate. They send the contestants to H&M and have them put looks together to show they have
real
style. Obviously the RNC didn't have that kind of confidence in their VP nominee. And sure enough, they'll pay through the nose.
Sarah Palin's $150,000 Makeover
[BBC]
Sarah Palin's RNC-Funded Makeover: A Fashion Do Or Don't?
[LA Times]
Palin's Fashion-Gate
[WWD]
Republicans Disgusted By RNC Spending On Palin
[Marc Ambinder]
For Women In The Public Eye, Looks Matter
[CNN]
Stylist: Palin Fashion Buys Worth It
[Politico]
After A $150,000 Makeover, Sarah Palin Has An Image Problem
[Washington Post]
How To Spend $150,000 At Saks And Neiman Marcus
[NY Mag]
The Saks Girls On Sarah Palin
[Newsweek]
How To Spend $150,000 Just Like Sarah Palin
[Slate]
If Sarah Palin Shopped For Her Campaign Clothes At Walmart…
[The Frisky]
Palin Clothes Spending Has Dems Salivating, Republicans Disgusted
[HuffPo]
Poll: Is Sarah Palin Elitist?
[Guardian]
Look Is The Same; The Labels Have Changed
[NY Times]
Sarah Palin's RNC-Funded Makeover: A Fashion Do Or Don't?
[LA Times]
McCain Responds To Palin Shopping Bill
[Time]