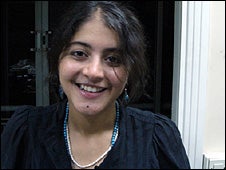 In Cairo last June, Sharif Gomaa, 28, pulled alongside Noha Rushdie Saleh, 27, in his van while she was in the street, stuck his arm out of the car, and grabbed her breasts so forcefully that she fell. Earlier this week, Gomaa was sentenced to three years in prison with hard labor, marking the first time a man has
ever
been jailed for sexual harassment in Egypt.As reported
earlier
, street harassment is insanely prevalent in Egypt. 83% percent of Egyptian women say they have been harassed, but less than 3 percent ever report it, according to a
Reuters
poll. In fact, the only reason Gomaa's crime was reported is that Noha jumped on the hood of her attacker's car, dragged him to a police station herself, and demanded that the crime be reported even as onlookers tried to help him escape. Though nearly half of the Egyptian women polled earlier this year said they are sexually harassed on a daily basis, which the
Reuters
poll defined as men touching or ogling women, shouting sexually explicit remarks, and exposing their genitals, the problem is almost never addressed by the authorities or the mainstream media in Egypt. Noha's case is extremely unusual only in that she insisted on prosecuting Gomaa and chose to speak publicly about the incident. In a translated
interview
with the Egyptian paper
The Seventh Day
, Noha describes the incident, saying that Gomaa stuck his arm out of his van and grabbed her breast, pulled her toward the car violently. She pushed him away and fell to the ground and he tried to drive off, but was forced to stop as a car pulled in front of him. Noha ran down the street and stood on the car's hood. "I was overcome by a feeling of strength and was prepared to be run over by his car, but not to let him get away with it," she said. Noha called to people on the busy street to help, but they told her to let him go and asked if she was crazy. One woman told Noha, who was wearing loose clothing but not a hijab, "First, look at what you're wearing." Noha and a friend managed to get Gomaa to the nearby police station but she says the police assistant refused to investigate at first, then told her there were no cars to transport Gomaa to the central police station. Noha had to drive her attacker and a police officer to the main station
in her own car
. Noha's experience demonstrates two reasons why so few cases of sexual harassment are reported in Egypt. The "blame the victim" mentality is so deeply ingrained in Egyptian society that 53 percent of Egyptian men polled by
Reuters
said women brought the abuse on themselves by dressing indecently and even many women agreed. Though wearing a hijab is thought to prevent harassment, 72 percent of the 83 percent of Egyptian women who were harassed said they were veiled when the abuse occurred. It is also extremely unlikely that authorities will do anything if the crimes are reported, since there isn't even a specific Egyptian law criminalizing sexual harassment. There have been two recent cases of mob-style sexual attacks on female Egyptian pedestrians, one earlier this month and another at the same time in 2006, and witnesses say that police officers just watched as the women were violently groped and their clothing was torn off. Egyptian women's rights groups are praising the judge in Noha's case for handing down a harsh sentence that they hope will set an example. The Egyptian Center for Women's Rights said in a press release that the decision, "will restore confidence in the legal system's ability to defend women subjected to such crimes in every step of the process - from filing police reports, to investigation, to sentencing. [It] sends a message to all segments of Egyptian society that sexual harassment is a crime and will not be tolerated." Khairy Ramadan, a
columnist
in the Egyptian newspaper Almasry-Alyoum, praised the ruling as well, saying enforcement is at the root of the problem. "Sexual harassment happens everywhere in the world. The difference is that they enforce the law abroad, whereas we just did it now for the first time," he writes. "Does this [ruling] mean society has changed? Until we find the answer, Noha must be praised for what she did and we all must support and protect her."
Egyptian sexual harasser jailed
[BBC]
Harassment = Jail Time!
[Muslimah Media Watch]