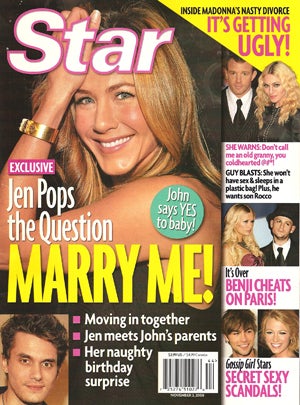 Welcome back to Midweek Madness, our weekly roundup of the glossy tabloids. Although Madonna and Guy "win" two covers this week, thanks to a nasty divorce, Jennifer Aniston also lands two covers, for her lingerie-fueled marriage proposal to John Mayer, and for getting plastic surgery. The last of the five covers features Angelina, with the by-now-greatly-recycled quote about
Mr. & Mrs. Smith
being a movie her kids can to watch to see their parents fall in love. Intern Margaret assists as we quench our thirst for celebrity "news" by drinking from the spigots of
Star
,
Us
,
OK!
,
In Touch
and
Life & Style
, after the jump.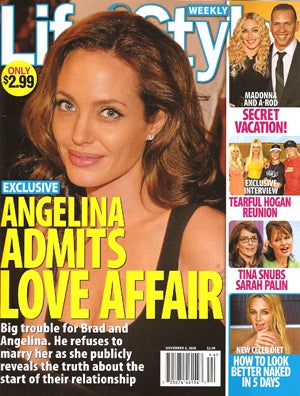 Life & Style
"Angelina Admits Love Affair." The mag tries to milk a cover story out of that line Angelina said about her kids watching their parents fall in love in
Mr. & Mrs. Smith
. Boring! Also inside: Nick Hogan was released from prison on October 21. There's
a "Recession Special" story called "Even The Stars Are Cutting Back!"
For example, Katie Holmes was spotted holding a travel mug, therefore the mag speculates that she is trying to save $25+ a week in lattes. Jessica Simpson's roots are showing, which means she is saving $225 a 'do. Carmen Electra washes her own car, which saves her $25 a wash. Next:
Tina Fey was opposed to Sarah Palin's guest appearance on Saturday Night Live.
An insider says she thought it takes the teeth out of the satire by letting the real Palin in on the joke. Lastly: Demi Moore and Ashton Kutcher have approached Michael Phelps about doing a reality show, which will focus on Michael's new life and fame.
Grade: F (blackwater)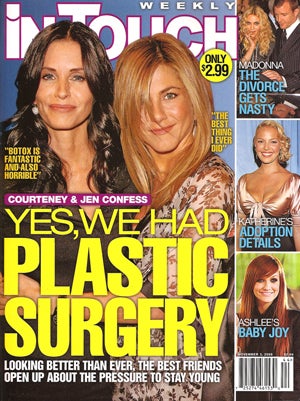 In Touch
"Yes, We Had Plastic Surgery." Jennifer Aniston, Courteney Cox, Demi Moore, Paula Abdul, Meg Ryan, Nicole Kidman and Tara Reid have all had Botox or some other kind of procedure.
Botox isn't surgery, is it?
Next: Sean Penn and Robin Wright called off their divorce in April, but according to a source who lives in their San Francisco neighborhood, Sean still unabashedly flirts with women and asks for phone numbers.
Katherine Heigl and her husband are in the process of adopting a baby from Korea.
Her sister, Meg, was adopted from Korea. The mag helpfully adds pictures of Katherine with her sister's kids so you can see what she looks like with Asian children (Fig. 1).
Grade: D- (greywater)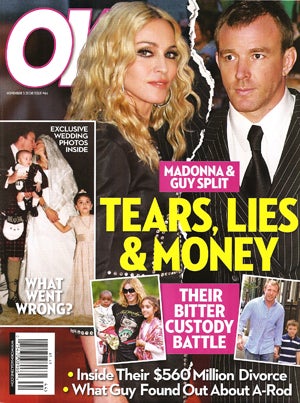 OK!
"Tears, Lies & Money." Six pages on how Madonna and Guy's divorce is messy, with some wedding pictures we hadn't seen before (Fig. 2). And Alex Rodriguez is on the scene!
A source says, "I've heard that Madonna calls A-Rod her boyfriend."
plus, A-Rod has a house in Rye, NY, by the water, that he uses to get away from the city. A source says it's very private and Madonna has been there more than once. There's also a page called "Who Gets What?" that lists all of Madge & Guy's assets: The house, the pub, the Mini Cooper. Moving on: In an
OK!
poll of "Who Has The Cutest Little Pumpkins," Marcia Cross beats Heidi Montag (Fig. 3). Who are the 36% of people who voted for Heidi???
Elisabeth Hasselbeck is "the odd woman out" on The View; during breaks she is always alone
, according to an audience member. Shenae Grimes, 19, of
90210
was spotted buying six packs of Parliament Lights cigarettes. She posted on her blog: "I smoke. It's who I am." Next: Gwen Stefani's son Kingston, 2, "runs around the house knocking things down. He's a troublemaker." On a spread called "Real Sizes Revealed!" we discover that Kelly Ripa is a 2 and Meryl Streep is an 8 (Fig. 4).
Grade: D (non-potable water)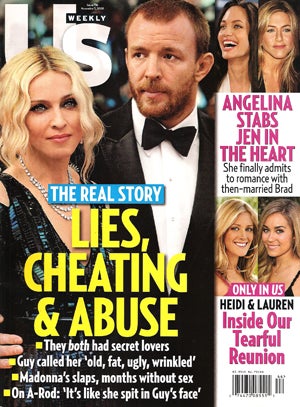 Us
"Lies, Cheating & Abuse." According to the story inside, two months ago, Madonna and Guy actually stopped speaking. Only their assistants talk to each other. A-Rod spent time backstage at Madonna's Oct. 11 concert in NYC and Madge and A-Rod also spend time at the Kabbalah Center in New York, "the only place they can really hide out," according to a source. Another
Madonna source insists that the A-Rod affair is orchestrated and less intense than it appears.
"[Her manager] Guy Oseary knew Madonna and Guy were splitting, and didn't want this 50-year-old lady without a man," a source dishes. "So he brought her together with Alex." Oh, and while Madonna and Guy were together, she would taunt him, saying "I should have married someone like me: strong, hot-blooded, intelligent, ambitious, spiritual." Snap! Moving on:
Mandy Moore and DJ AM are back together!
"Since the accident, it's blossomed into something again," a source spills. The source says Mandy says life's too short not to be with someone you really care about.
Britney has been wearing a ring that looks like the one given to her by Adnan Ghalib.
Plus: "She's also written a song called 'Papi,' her nickname for Adnan," an insider says. There are four pages devoted to the Heidi Montag/Lauren Conrad "tearful reunion." Here's a quote from Heidi: "I am just sorry for getting caught up in this negativity. I got sucked into it, it got out of control." Sarah Silverman critiques red carpet pix of herself in a story called "My Worst Outfits Ever." Lastly,
Lindsay's new leggings line is "an ode" to Marilyn Monroe
, who, as far as we know, never wore orange cheetah-print stirrup pants (Fig. 5). LL says, "I think all women feel sexy in leggings."
Grade: D+ (rainwater)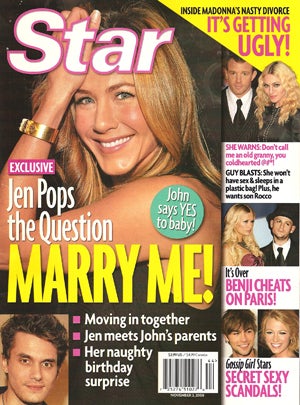 Star
"Jen Pops The Question: "Marry Me!"
Jen said she'd only take John back if they got married, and he agreed.
On John's birthday, they went back to Jen's house in L.A. A source says: "She lit a bunch of candles and slipped into some lingerie. She owns a ton of it — especially garter belts. She doesn't wear them outside the house, but she wears them in the bedroom!" A "friend" says: "Jen surprised John with a striptease. She got this little red and black number online. Nothing too X-rated, just skimpy. She wanted to do something special, so she gave him a private show and sang "Happy Birthday," just like Marilyn Monroe did for JFK." The source must be the underwear drawer this week. Next!
The cover claims that Madonna "sleeps in a plastic bag"
but the story explains it's an "age-defying" regimen that involves slathering herself with $800-a-jar cream and wrapping herself in plastic. Moving on: Mandy Moore has refused to speak to her mother, Stacy, since March, when she left Mandy's dad for a woman. Mandy's older brother is getting married later this year, and Mandy has warned him that if their mother is at the wedding, she's not going. Blind item: "What former bombshell needs someone to come to her rescue? Her drug use has ruined her looks and foiled any hope of reuniting with her ex. Insiders say her career is the next to go." Ooh, a story called "Gossip Girl Stars Gone Wild." Apparently there are photos out there of
15-year-old Taylor Momsen "looking wrecked and kissing a female friend."
Blake Lively acts "childish" on the set and whines, "How come Blair gets to have all the fun parties?" to the wardrobe department. She and Penn Badgley annoy the crew because one won't show up until the other one is ready.
Ed Westwick showed up hungover to a photo shoot, ate three bagels to feel better, but ended up puking all over the ladies room.
As for Chace Crawford, he's been making out with girls who are not even remotely attractive. A source says: "He can have any girl he wants, but he tends to hook up with the below-average ones." Leighton Meester's "mortified" that the news about her mom giving birth in jail was revealed; she was "always in tears" on the set and kept having to get her makeup retouched. Also inside: out-of-rehab Kirsten Dunst is still drinking. Lastly: Tina Fey's "secret weapon" is her husband: They've been married since June 2001 and they "met cute" in the theater. He's worked on every show she's done.
Grade: B- (tap water)
Fig. 1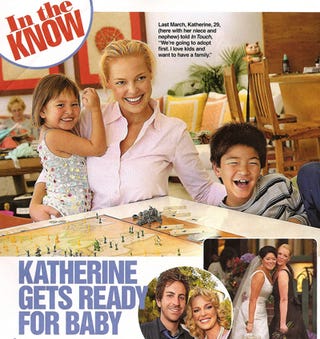 Fig. 2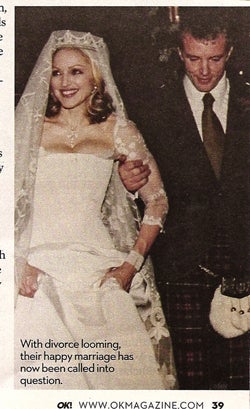 Fig. 3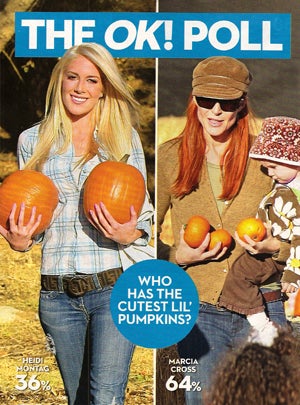 Fig. 4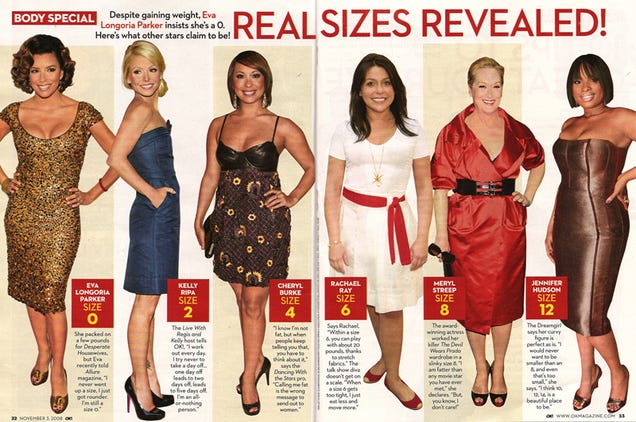 Fig. 5