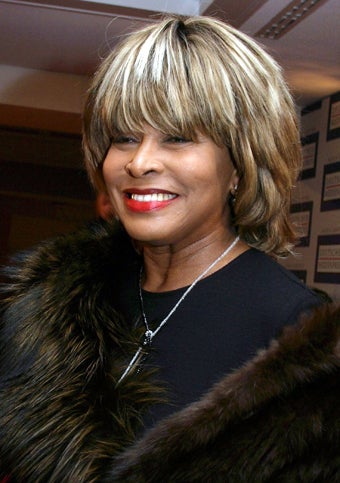 Ann Powers, music columnist for the LA Times , went to the Staples Center to see Tina Turner in concert last week. She wrote a review, in which she admitted that the show wasn't perfect: "Turner frequently missed notes, sometimes going utterly off key. Whenever her dance moves got tricky, it seemed, Turner's vocals suffered." Today, Powers writes that she "received a mini-flood of negative letters" after the review was published, from fans who said things like, "This woman is an inspiration to us all… For you to criticize her in any way is a lack of respect for her talent and professionalism. Wait until you turn 68 and see if you can get out and do half of what she does. Shame on you." But Powers thinks that overlooking Turner's less-than-perfect voice would not be the right thing to do. She writes:
In the end, I decided that ignoring Turner's flaws would have been disrespectful, a qualifying act not unlike that old male chauvinist saw: "You play pretty good for a girl." She's a real artist, and a musical innovator; she would want me to be honest, I think.
Powers notes that the letters she got "stressed Turner's veteran status" and suggested it was wrong to find fault with her singing because of her age or place in pop history. Powers asks, sincerely: Is there a point when an artist becomes off-limits to criticism? In addition, Powers points out that concert reviews become historical record: "In 100 years, a Tina Turner biographer needs to know how her later performances compared to earlier ones." But, she counters: "On the other hand, holding to a rigid standard of musical perfection is inappropriate for some artists." Last year, I
posted a picture
of Aretha Franklin and Diana Ross with the headline, "True Or False: A Legend May Wear Whatever She Damn Wants." Because on the one hand, Aretha is the Queen of Soul! Diana is a living legend! How
dare
one critique their dresses? On the other hand, if the dress is unflattering, the dress is unflattering. When it comes to Tina Turner, there's no doubt that she survived abuse and redefined pop music. Does that mean a reviewer should give her — or any other legend — special treatment?
Are Tina Turner And Other Legends Off-Limits To Negative Criticism?
[LA Times] Related:
Live: Tina Turner at Staples Center
[LA Times] Earlier:
True Or False: A Legend May Wear Whatever She Damn Wants