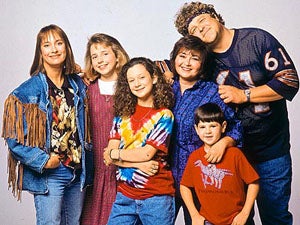 Roseanne Barr's eponymous sitcom
debuted 20 years ago
and
Entertainment Weekly
got the cast of
Roseanne
to relay their favorite memories. What's striking about their commentary is that even by today's far racier standards,
Roseanne
is still revolutionary. Think of it this way: it was 1992 when Dan Quayle chastised Murphy Brown for having a child out of wedlock, and these days, the gilded teens of
Gossip Girl
bump and grind like bunnies and no one bats an eyelash. But an overweight, lower middle class, aggressive female protagonist like Roseanne? That's nowhere to be seen on network or cable TV these days."I'm very proud of its timelessness and, you know, the fact that it has a political edge that is even more relevant now than it was then," Roseanne tells
EW
. "I set out to talk about America's working women, and yeah, I guess that's groundbreaking.'' But that's not the only way in which
Roseanne
broke new ground. Martin Mull, who played Roseanne's openly gay boss, Leon, tells
EW
, "One of the reasons that I was delighted with the part… was the way it was handled....Whereby let's say both Rosie and Goodman both had a little bit of a weight problem, the show was not filled with fat jokes. And by the same token, when Leon came along, the fact that he was gay was kind of like 'Okay, next! Now, let's deal with him as a human being.'" Sandra Bernhard also played an openly gay character on the show — Roseanne's friend Nancy — and her sexuality was treated with care and dignity, not like a sideshow. And then there were Roseanne's daughters, Darlene and Becky. Neither girl was a plastic stick figure like the over-plucked teen heroines of
90210
or even the
daughters
on red state family friendly sitcoms like
The Bill Engvall Show
. Both Darlene and Becky were shown to be bright and headstrong, just like their mother. Sara Gilbert, the actress who played the sardonic Darlene, has this to say about her character, "I loved that she goes away to art school or to be a writer or whatever. I loved that she, it's the story of this family that sacrifices and is so poor, and this mother does everything for her kids, and her daughter goes on to make something of her life. I think that's so moving." One could argue that the sitcom format is dead, and that a show like
Roseanne
is a relic of the sitcom age. But it still doesn't change the fact that families like the Connors are not present on television in any way, shape, or form, even on reality TV. When Bravo airs the "Real" housewives of Atlanta, NYC, and Orange County, they show only the frivolous and the uberwealthy. John Goodman said of
Roseanne's
debut, "'We came on following
Moonlighting
, and there was stuff like
Dynasty
and
Dallas
with all of these happy, rich, feel-good people, and then there was us. We knew we were different, and we knew she was really plugged in to what was going on in the country. People who looked like us were not doing too good." Looks like we could use another
Roseanne
these days, if only so she could kick the crap out of those wussy, whiny
Desperate Housewives.
'Roseanne': The Cast Looks Back On the Show's 20th Anniversary