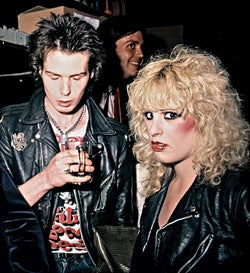 Nancy Spungen, the ill-fated girlfriend of the Sex Pistol's Sid Vicious, is reviled in the same way Yoko Ono and Courtney Love are reviled: All three are blamed by many for the downfall of beloved musical groups (the Sex Pistols, the Beatles and Nirvana, respectively) and all three were hated by their lovers' bandmates and many fans. On the 30th anniversary of Nancy's controversial death — she was found stabbed to death in a Chelsea Hotel room, and Sid was the only suspect — New York Magazine has an article that comes to the defense of the hated Spungen. 70s punk scenester Legs McNeil tells New York's Karen Schoemer that the often drug-addled Nancy "could be very, very nice," but more importantly she was unapologetically loud, brash, and honest .Spungen came from a suburban Philadelphia household, and she was so disruptive as a child that her mother Deborah wrote a biography about Nancy after her death, called And I Don't Want to Live This Life: A Mother's Story of Her Daughter's Murder. From Deborah's point of view, Nancy was an unreasonable, mentally ill child who "trashed" her life. If you look at things from Nancy's point of view, according to friend and photographer Eileen Polk, "Like most kids who are 17, basically her statement was, 'I hate my family'…All the things that she loved and thought were important in the world, they told her were stupid. I think she had a really stifling middle-class upbringing." Polk has more to say about Nancy:
She was blatantly honest about [using drugs to meet musicians]: She bought drugs for the bands. She was honest about being a prostitute as well, which I thought was refreshing. The punk scene, like any other scene, had its little hierarchies. There were groupies that had been around for a long time because of their looks. In order to be a groupie you had to be tall and skinny and have fashionable clothes. There were a bunch of girls like that on the scene. And then here comes Nancy. She's not trying to be cute or charming. She wasn't telling people she was a model or a dancer. She had mousy brown hair and she was a bit overweight. She basically said, 'Yeah, I'm a prostitute, and I don't care.' 
Legs McNeil offers that Nancy wasn't the only outrageous person on the scene, and adds that Nancy "wasn't any more fucked up than Dee Dee [Ramone] or me. Joey [Ramone] was paranoid schizophrenic. Joey pulled a knife on his mother. We were all a little disturbed." But as Schoemer notes, Nancy remained an outcast, perhaps because she was so sexually and generally aggressive. Because she didn't fit the groupie mold, Polk said that she was generally shunned. To this day, even though Sid Vicious confessed to Nancy's murder, people don't believe he killed her. "Everyone has a different theory: drug deal gone awry, robbery, or just a mistake that came from having too many knives around," Schoemer says. "Bassist Howie Pyro, who was with Sid the night he died, believes Nancy might have been so desperate for attention that she stabbed herself, thinking Sid would come to her rescue, but that he was too stoned." If she had been a less aggressive or better liked woman, would people have believed that Sid killed her? Sid died of an overdose four months after Nancy's 1978 death, so he'll never tell. There's a movie currently in production about Nancy's death called
Who Killed Nancy?
, and it seems the question remains hanging in the air.
The Day Punk Died
[NYM]