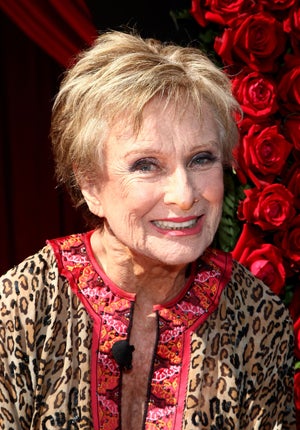 There are many great bits in the
profile of 82-year-old Cloris Leachman
in yesterday's
New York Times
, but you've got to love the fact that when the actress met reporter Edward Wyatt in her trailer about an hour after performing a tango for
Dancing With The Stars
, she changed out of her ballgown in front of him. She made him promise to keep his eyes closed, of course. Leachman, who is the first person onscreen in the pilot episode of
Mary Tyler Moore
, who has a numerous Emmys and who won an Oscar for her work in
The Last Picture Show
, is asked what she'll do next, after
DWTS
is over. "I could get pregnant," she says. "I've got a bit of time before my next project. Maybe I'll be on
American Idol
."Leachman also discusses being a lady of a certain age on a show with physical demands. "I think my back's sore down low," she says. "I hurt my rib. I have pads in my shoes for my bunion. I have a shot in my knee for my bad knee. I have high blood pressure. Very bad osteoporosis. And asthma. But I'm talking pills for everything so everything is fine." None of this will stop Leachman from joining Brad Pitt on the new Quentin Tarantino film,
Inglourious Basterds
and being grand marshal of the Rose Parade after her
Dancing
stint is done. Plus, she has a book coming out in the spring. But she tells Wyatt she doesn't really know why she has so much support among fans. "I am from Des Moines, Iowa, not even the city but out in the country. I don't have a lot of trappings, I think, in my personality. I'm just a simple person, with a silly bone."
High-Kicking Her Way to a Renaissance at 82
[NY Times] Earlier:
Cloris Leachman Roasts Bob Saget
Dancing With The Stars: Cloris Leachman Is Limber & Lovably Looney