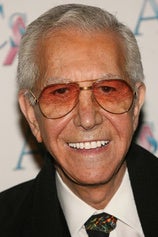 The fashion critic known as Mr. Blackwell died Sunday after an illness, reports the Associated Press. He was 86. Born Richard Sylvan Selzer in 1922, Mr. Blackwell created a career out of being bitchy and snarky — decades before the internet was born. Though Blackwell started out as an actor, he abandoned stage and screen after failing to "make it." At age 36, he switched gears and went into creating fashion, claiming to be the first to make designer jeans for women. He had a few Hollywood clients when he first issued his list of fashion faux pas in 1960. In a world where everyone worshiped movie stars, being the guy who tore idols down quickly made Mr. Blackwell famous.He hosted his own show, Mr. Blackwell Presents , in 1968, and called himself "the worst bitch in the world." Reports the AP:
During his heyday the issuing of Blackwell's annual list was an eagerly anticipated media event. On the second Tuesday in January he would assemble reporters at his mansion for a lavish breakfast before making a dramatic entrance for the television cameras. By the turning of the millennium, however, the list had lost its juice and Blackwell took to issuing it by e-mail.
Mr. Blackwell ushered in an era for "Fashion Police" spreads in magazines and, later, blogs like Perez Hilton and Go Fug Yourself. His snippy take-downs and no-one-is-sacred attitude (he once had Diana, Princess of Wales on the list) would have been perfect for blogging. A few examples: Ann Margret: "A Hells Angel escapee who invaded the Ziegfeld Follies on a rainy night." Camilla Parker-Bowles: "The Duchess of Dowdy." Bjork: "She dances in the dark — and dresses there, too." Madonna: "The Bare-Bottomed Bore of Babylon." Barbra Streisand: "She looks like a masculine Bride of Frankenstein." Christina Aguilera: "A dazzling singer who puts good taste through the wardrobe wringer." Meryl Streep: "She looks like a gypsy abandoned by a caravan." Sharon Stone: "An over-the-hill Cruella DeVille." Lindsay Lohan: "From adorable to deplorable." Mr. Blackwell hinted that he had mixed feelings about being mean: "The list is and was a satirical look at the fashion flops of the year," he said in 1998. "I merely said out loud what others were whispering. It's not my intention to hurt the feelings of these people. It's to put down the clothing they're wearing."
Fashion Critic Mr. Blackwell Dies at 86
[NY Times]
'Worst dressed' critic Mr. Blackwell dies
[CNN]