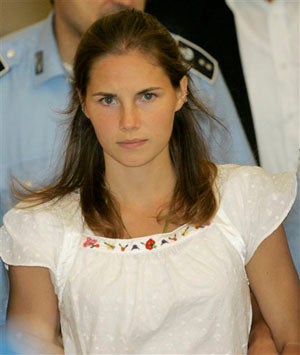 After she languished in an Italian prison for nearly a year,
the hearing
of Amanda Knox, 21, an American student accused of murdering her British study-abroad roommate in Perugia, is finally underway. According to the
AP
, Prosecutor Giuliano Mignini alleged that Meredith died as part of "some kind of Satanic rite, with Amanda allegedly first touching Meredith with the point of a knife, then slitting her throat." Knox's former boyfriend, Raffaele Sollecito allegedly held Meredith's arms down, and a third man, Rudy Hermann Guede tried to "sexually penetrate" the victim.Lawyers for Knox's side say that this is a mere "presumed scenario" with no real evidence to back it up. Many media reports, including a
thorough Radar feature
, note that prosecutor Mignini has had it out for Amanda Knox since the murder occurred. As discussed
last week
,
Radar's
Sarah Horne reported that, "Lisa Pasko, a criminology professor at the University of Denver who specializes in young women who commit violent crimes, has been following the case and does not believe that Knox participated in Kercher's murder…She likens Mignini's behavior to that of the very vocal prosecutor in the Duke rape case, former Durham County district attorney Mike Nifong, who improperly leaked information to the media in order to beef up his case against the accused lacrosse players." Amanda herself took the stand during a closed-door hearing today in Perugia, and proclaimed her innocence. An obviously emotional Knox told the court "Meredith was my friend… I had no reason to kill her." As for the other two men allegedly involved, Rudy Hermann Guede has requested a "fast-track" trial and has admitted to being in the room when Kercher died. Though Knox and Sollecito have no prior records, the
Radar
article pointed out that Guede is a "petty criminal who had a history of home invasions with a knife," and according to the
Guardian
, a pillow with Guede's bloody hand print
was found
beneath Kercher's body. The case against Sollecito seems to be based mostly on the fact that he liked violent Japanese Manga comics that depicted murder scenarios. Kercher's parents are
lodging a claim
for financial compensation in the aftermath of Meredith's death, and according to the
Daily Mail
, their lawyers will argue that "'this was a particularly violent crime and that all three [Knox, Sollecito and Guede] were present and responsible for her death."
U.S. Student Accused Of "Satanic" Slaying
[AP via CBS News]
The Accused
[Radar]
Knox Accused Of Stabbing Meredith
[Guardian]
Meredith's Parents Lodge Claim For Murder Damages After Court Is Told She Was Attacked For Refusing To Take part In Drug-Fuelled Orgy
[Daily Mail] Earlier:
True Crime