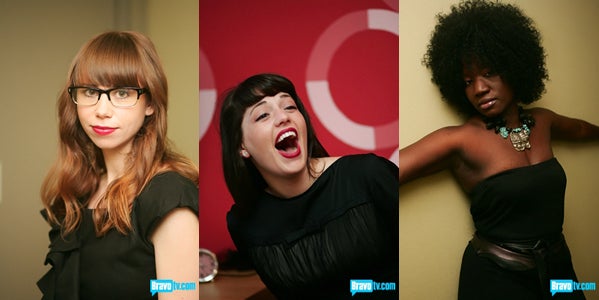 Maybe you're curious what the contestants from Season Five are up to, now that Project Runway is over? Winner and self-described "fashion dork" Leanne Marshall spoke to the LA Times and Entertainment Weekly ; and EW also interviewed Korto and Kenley . So, Leanne: She won $100,000 which she says, "All has to go to the clothing line!" She muses: "Maybe I'll go and buy some crazy expensive fabrics that normally I can't go near. That's kind of my version of buying a fancy pair of shoes. It will be fun to feel like I can buy whatever I want in a fabric store." As for Ms. Kenley Collins, you're gonna love this: She's a teacher.Kenley tells EW :
I teach sewing in New York. It's in the Fashion District, on 37th Street, called Sew Fast, Sew Easy. I teach a beginner's sewing class and intermediate pattern-making. I'm just trying to make some money right now. I lost all my money because I did Project Runway, and I'm just trying to get my money back, plus more. And it's working. I'm gonna expand my website and keep selling dresses.
Kenley swears her website,
kenleycollins.com
, where she sells headpieces, is doing really well, but it was down as of 11:15 this morning. Kenley also knocks Korto's line: "Korto sent really bad, unfinished pieces down the runway, and underwear was showing, too. I don't care if you have the best line in the world, if your stuff is showing underwear, and it's unfinished, that's unacceptable at Bryant Park. That was really insulting, to have my beautiful, couture-made line come in third next to that was really insulting." Kenley also talks about the knock-off accusations (she thinks her floral dress looks "nothing like" Balenciaga) and says there's one good thing that came out of being on the show: "I came out of this competition with my two best friends, Stella and Daniel." Daniel is living with her, subletting her apartment. And Kenley talks to Stella every day! As for Korto, who won $10,000 for being the "fan favorite," she says: "I'm still mad. I wanted to win… I'm glad that women got that I was fighting for the real women, women with curves, women that don't look like Heidi Klum. We need to go buy high-fashion stuff, and we want to look hot and sexy. Those are the people I design for. I represented for them, and I'm glad they got it." Korto is super close with Jerell, and fairly friendly with Leanne: "She's a classy lady. Kenley doesn't apologize for her statements." Korto's taking her family Liberia next year; she was invited to visit and design a gown for the president, Ellen Johnson-Sirleaf. "Maybe I'll make Michelle Obama's inaugural dress," Korto sorta-jokes. As for Leanne, she is super excited that Sarah Jessica Parker has asked for clothes. "I guess she watched the show […] and she wants to be my customer. It's amazing. When I was creating my collection, I listened to music all day, but at night I would kind of feel lonely and want someone to talk to, so I watched every episode of
Sex and the City
."
'Project Runway' Winner Leanne Dishes On Kenley And Her First Big Splurge
[LA Times]
'Project Runway' Exit Q&A: Kenley Collins
[EW]
'Project Runway' Runner-Up Q&A: Korto Momolu
[EW]
'Project Runway' Q&A: Season 5 Winner Leanne Marshall
[EW]