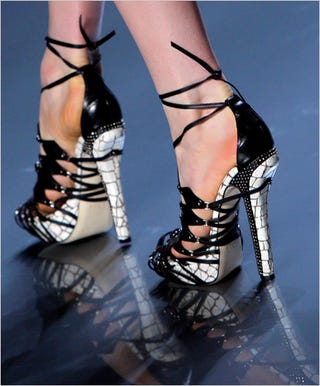 The
New York Times
has a slideshow called
"Shoes From The Shows,"
featuring footwear from the major collections in Milan and Paris. And, please, take it from me, a person who truly loves shoes: It's absolutely horrifying. I watched it while barefoot and felt my heels tingle and ache. Let's start with the
evil, twisted, bondage-inspired
John Galliano for Christian Dior heel shown at left. Even if you like stilettos, even if you like tough-chick, kick-ass heels, there's a word for that shoe, and the word is: Ouch. As for Galliano's other shoes: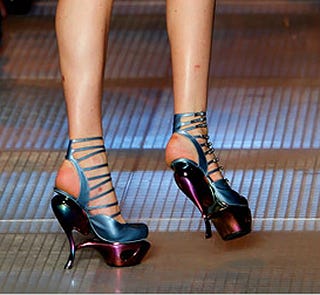 What the hell? Sure, high fashion is about fantasy. But walking doesn't seen possible, or probable. Creating works of art is a noble goal, but what is the purpose footwear that cannot actually be worn to walk in? It's not just about heel height; these
Dolce & Gabbana
monstrosities do little to contort the foot. But they ought to come with an orthopedic surgeon on speed dial. Let's not get started —
again
— on the Galliano
shoes
that involve walking on the head of a
"fertility idol"
. But the
soaring heels
at Prada, which seem to be held together
by raffia
, actually caused runway models — whose job it is to
walk
— to
wobble and fall
. The least-ridiculous shoes in the slideshow are the
wacky befeathered numbers
by Karl Lagerfeld for Chanel. A lady may look like she's escaped from
Fraggle Rock
, but at least she can walk away with dignity, since the heels are mid-height. And look!
Sunglasses
to match.
Shoes From the Shows
[NY Times] Earlier:
Fashion Show: Dior
At Fashion Week In Milan, Prada Was A Real Problem