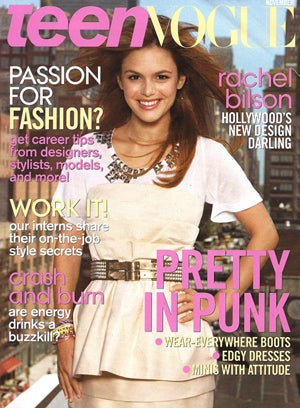 The November issue of
Teen Vogue
has the words "Pretty in Punk" on the cover, but the closest thing you'll find inside is a peculiar, joyless "Gender Benders" fashion spread. The concept? Mixing pretty dresses with structured jackets, "tomboy" shoes and playful purses. Sounds fun! Unfortunately, the results are, well, bizarre. Confusing, even. And it's hard to focus on the clothes, because they've given the pretty, blonde, Caucasian model
cornrows
. Gender bending? If you're channeling Latrell Sprewell, perhaps. Check out a few of the pictures from the shoot, after the jump.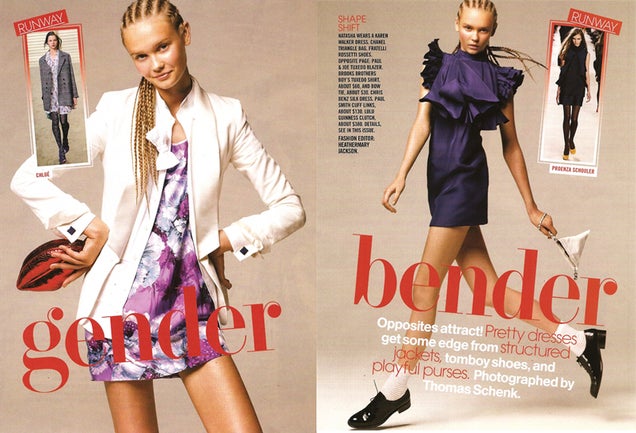 S
Apart from the scandalously high hemlines, it's hard to see where they're putting the "teen" in
Teen Vogue
in this shoot. This doesn't look like something a 13, 14, 15, 16 or 17 year old would wear. Any older than that and you're reading regular
Vogue
, no? Also: The hair. The hair! Please explain the hair. Someone. Please.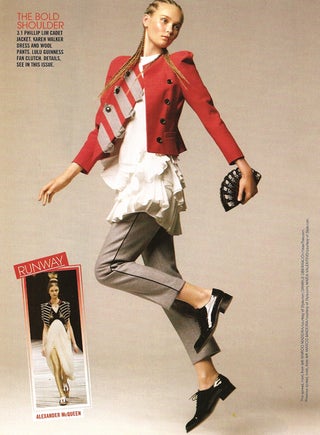 S
There are no prices printed for this ensemble, but since the designers are Karen Walker, Phillip Lim and Lulu Guinness, it's safe to say recreating this would be expen$ive. One could definitely get those pants and a band jacket at the Salvation Army, but that wouldn't be very
Teen Vogue
, now would it?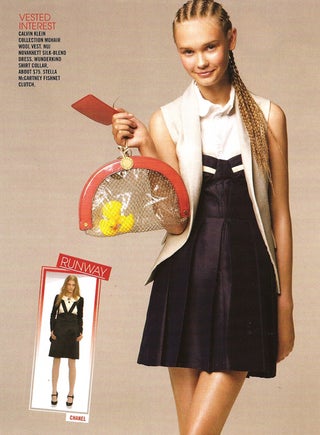 S
Please note that she is carrying nothing but rubber ducks in her purse. The recession has really hit hard. Hopefully I can buy a bagel with Post-It notes.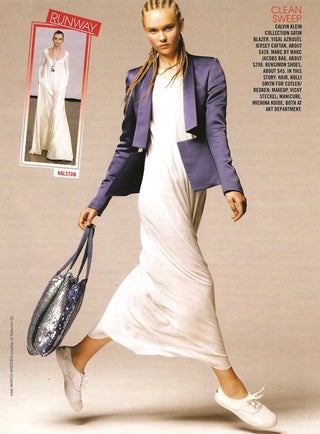 S
Finally! An ensemble I understand. It's the I-just-rolled-out-of-bed-and-threw-a-jacket-over-my-nightgown-and-grabbed-my-sparkly-purse-from-last-night look. Been there.
Teen Vogue
[Official Site]