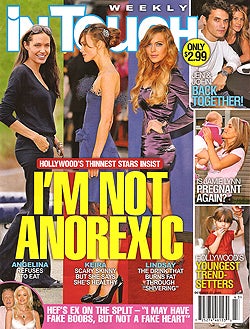 If it's Wednesday afternoon, this must be Midweek Madness, your weekly tabloid roundup source. Crappy covers this week, folks: Skinny stars, stars without makeup, Trista announcing her pregnancy, Jenny McCarthy talking about autism, and those kids from
High School Musical
. But we took the time to mine the mags for nuggets of gold. Intern Margaret assists as we dip our pan in the latest issues of
Us
,
OK!
,
Life & Style
,
In Touch
and
Star
, after the jump.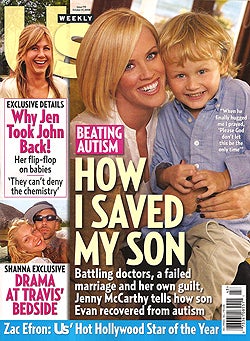 Us
"How I Saved My Son." To be honest, we couldn't really get into this cover story. Meaning: refused to read it. Intern Margaret applauds Jenny McCarthy's efforts, but… yeah. Also inside: According to Jason Alexander, the guy that Britney married for 55 hours, he has renewed his friendship with Brit. Britney's rep denies this.
There are two pages about Jen Aniston and John Mayer being back on
: They spent the weekend together in New York! Plus:
Shanna Moakler describes Travis Barker's skin grafts
: "That's when they shave the skin off and then staple cadaver and pig skin right on, so the skin underneath can heal." Science! Lastly:
American Idol
's Nikki McKibbin wed her childhood rollerskating coach. She'll appear on the second season of
Celebrity Rehab
.
Grade: F- (silt)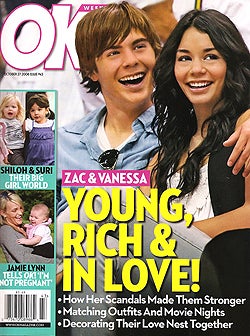 OK!
"Young, Rich & In Love!" Zac Efron and Vanessa Hudgens are YR&IL. They vacation together, work out in matching outfits and own million dollar homes. He's 21, she's 19. Yawn. Moving on: Kelly Ripa was at the Madonna concert and totally got to sing along when Madonna handed her the mic during a song!
Is The Hills over?
An insider says: "No one gets along anymore. Whitney moved to New York, Audrina can't stand to be in the same room as Lauren anymore, and they all want more money." Hey, ever notice how Katie Holmes and Mr. Spock look alike (Fig. 1)? Next, profound words from Eva Mendes: "My secret obsession is love. I love 'love!' I love being in love, and I love having someone be in love with me. Love is the sexiest thing in the world." So, this is probably bullshit, but there's a 2-page story about how
even though they broke up 2 years ago, Cameron Diaz is still pining for Matt Dillon
. "I'm sure she still thinks about him — a lot." a pal of Cammie's says.
Grade: F (sludge)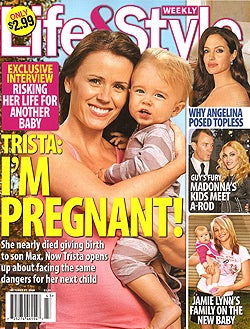 Life & Style
"I'm Pregnant!" If you care about
The Bachelor
's Trista Rehn Sutter, then you'll be interested to know she is knocked up again. Another story we refused to read. Moving on:
Angelina bought the same dress in 6 colors
(Fig. 2). Jamie Lynn Spears has been "struggling" to shoot down reports that she is pregnant again. "I'm not pregnant," Jamie Lynn says. At her concert, Madonna dedicated a song to "anyone with intimacy issues." Her marriage is "all but dead," says a source.
Tom Cruise bought Katie Holmes a cross
as a gift for appearing on Broadway. The mag points out that it is more like a Catholic cross than a Scientology cross, which has eight points. But, it's actually a square cross, like the Red Cross. Whatevs. Lastly: A picture of Sarah Jessica Parker as a kid. Cute! (Fig.3)
Grade: F+ (sand)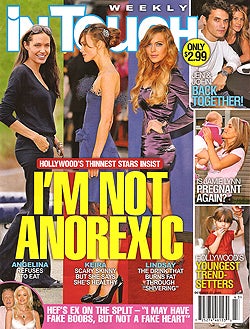 In Touch
"I'm Not Anorexic." Basically this is a
six-page series of articles calling out "scary skinny" actresses
and explaining why they are so slim.
Lindsay Lohan is on a "risky new diet" that involves Redline, an energy drink that promises to burn fat through a shivering response
. Like a chihuahua? A doctor says it's pretty close to being an amphetamine. Anne Hathaway has eliminated carbs and sugar and become and "insane" calorie counter.
Angelina Jolie is only eating 1,000 calories a day
, and there's a chart so you can play along at home! The mag also claims that in those pix where she's
wearing that black dress
at the premiere of
Changeling
she's also wearing a "custom made corset." Could it be called "Spanx"? As for Keira Knightley, she is still insisting that she is naturally thin, but that doesn't stop the magazine from drawing arrows that point to her "thin arms" and "skeletal back." A pal says of Katrina Bowden from
30 Rock
: "She works out 4 to 5 hours almost every day." Moving on: Jennifer Lopez and Marc Anthony came up with the idea for their second wedding at 12:30 am after seeing the Las Vegas Pussycat Dolls.
The Hills
' Justin Bobby speaks! He was overheard telling a pal he never hooked up with Lauren Conrad and it's all for the show. "When a group of blondes tried to ask him about it, he threatened to punch them," says an onlooker.
Gossip Girl stars Taylor Momsen and Chace Crawford were spotted making out
at two parties in NYC. Even though they go to the same school on
Gossip Girl
, in real life he is 23 and she is 15! Rose McGowan is going to marry director Robert Rodriguez after all: They'd taken a three-month break, but it's back on. Jessica Lowndes and Adam Gregory from
90210
are dating, if you care. Ooh, exclusive interview with Holly Madison: "There were a lot of people — not just Hef — who wanted me to pretend we were still together for the sake of the show." She also says: "I want to be out of there by Halloween. It is so awkward being there, because he is dating other people." Also! She'd been getting fertility treatments but the clinic told her pregnancy wasn't possible because Hef was too old. Next: An interview with Kelli Dawson, the woman who claims she had relationship with Casey Aldridge (he denied last week it in
OK!
) says: "I heard that [Jaime Lynn] told Casey she is pregnant." Lastly, a sausage-loving town in Rostov-on-Don, Russia, has an exhibition of masterpieces of art made entirely out of slices of local sausages and meat (Fig. 4).
Grade: C- (cyanide-processed gold ingot)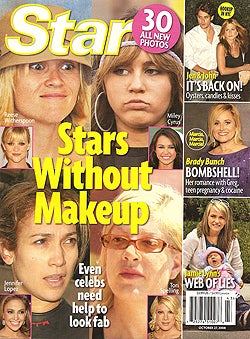 Star
"Stars Without Makeup." Well, they just did this EXACT SAME STORY in
July
, but here it is again. Intern Margaret says that in the "without makeup" pictures, they are all wearing makeup. Eyeliner or
something
. She also says they all look pretty damn good "without" makeup. Also inside:
Rihanna was spotted sitting on Kanye West's lap backstage at a T.I. concert in Hollywood
. "Before long, the two were full-on kissing each other," says a source. Scandalous! To mark her 55th birthday in January,
Oprah is giving herself the gift of $500,000 in plastic surgery
.
Star
actually creates before and after pictures so you don't have to use your imagination (Fig. 5)!
Jennifer Aniston and John Mayer have renewed their romance with intimate dinners at John's Soho apartment
. She checked into a hotel, but it was just for show. A source says: "She actually spent her nights at John's place. They ordered sushi and watched movies and he played the guitar for her. She spent several nights there. And yes, they slept together. Jen says the sex is amazing and that she can't help herself — she's crazy about him!" Who is this source, the sheets? In Maureen McCormick's upcoming book, she discusses her sexual experimentation with Greg Brady, how she fell into coke, and it includes the following info: "A contractor named Harrison Ford made her a special hot tub with a hidden compartment she used to stash cocaine."
Grade: C (gold ore)
Fig. 1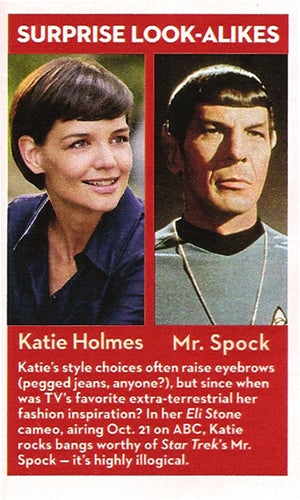 Fig. 2

Fig. 3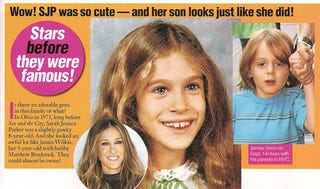 Fig. 4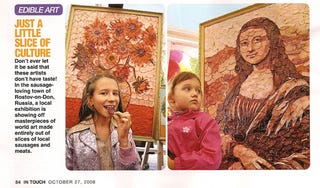 Fig. 5