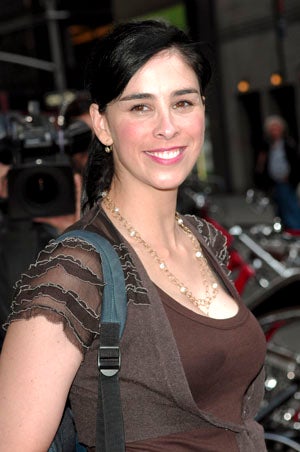 Today's
New York Times
is reporting that the Sarah Silverman-endorsed
Great Schlep
, the campaign that urges young Jews to visit their Floridian grandparents and encourage them to vote for Obama, is sort of a bust. But what do you expect from
an article
that boasts reporting from someone named
Carmen Gentile
? (We kid, we kid.) However, the
Times
is declaring the Schlep a tepid success because only about 100 people so far have traveled to the Sunshine State to get Bubbe and Zaide to vote for Obama. Mik Moore, co-director of the Jewish Council for Education and Research, which sponsored the schlep, doesn't even have grandparents in Florida but that didn't stop him from traveling south to stump for Barack.According to the
Times
, Moore and "his Great Schlep co-creator, Ari Wallach, 33, arrived in Boca Raton on Friday…they focused on places like nearby Wynmoor Village, a mostly Jewish retirement community in Coconut Creek. On Saturday, Mr. Moore said they found 10 to 20 people around the pool. Some were undecided, but most were avid Obama supporters, including a darkly tanned older man with a nipple ring and a large Jewish star around his neck. Mr. Moore said he was encouraged but not surprised. 'A large percentage of nipple-ring people are in Obama's camp.'" The Venn diagram of nipple ring wearers and senior citizens is pretty small, and a lot of the folks interviewed by the
New York Times
and several British papers are still not enthused about the Democratic senator from Illinois. "I switched to the Republicans after 9/11. I'm a Jew. Security is important because we've had 2,000 years of insecurity," Robert Aschheim, a lawyer, tells the
Times of London
. "My kid is pretty liberal — but what the hell, he's 24 years old. I'm trying to change him." However, both the
Guardian
and the
Times of London
have found
anecdotal evidence
of Jews who were successful in convincing their grandparents to vote Democratic on November 4. Jonathan Packman made the trek down to Fort Lauderdale to convince his 91-year-old grandparents, Bertha and Julius, to vote for Obama, and his travel paid off. "Jonathan, he's been using all the tactics on us but he doesn't have to try too hard. We've moved down from New York to live the life a little and I really don't like Republicans," Bertha tells the
Times of London
. "I just want to say how nice it's been to have our family visit us." Awww!
Laugh at a Campaign Pitch? Sure. Visit the Grandparents? Not So Much.
[NY Times] Related:
Young Make 'Great Schlep' To Persuade A Skeptical To Vote Obama
[Guardian]
'The Great Schlep' May Seal The Presidency Deal For Barack Obama
[Times of London] Earlier:
Waterboarding Apologist Says Sarah Silverman Is "Not A Jew"