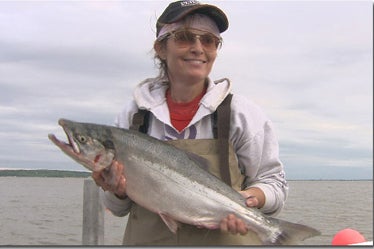 Happy Columbus Day, or what some of us call Murder Of Indigenous Peoples Day! Alaska's population is 15.6% Native American, but apparently Sarah Palin doesn't have their best interests at heart. While the Governor enjoys fishing, shooting caribou and hunting wolves from helicopters, she has sought to overturn subsistence fishing and hunting for Native peoples in Alaska — the right to hunt and fish according to ancient customary and traditional practices.According to Talk Left, "Palin opposes subsistence protections in marine waters, on many of the lands that Natives selected under their 1971 land claims settlement with the state and federal governments, and in many of the rivers where Alaska Natives customarily fish." An unnamed lawyer says, "Palin's lawsuits are a direct attack on the core way of life of Native Tribes in rural Alaska." Evon Peter, former Chief of the Neetsaii Gwich'in tribe from Arctic Village, whose wife is Navajo (from Arizona) is probably not voting McCain/Palin. He writes:
Palin chooses options that very well may result in the extinguishment of some of the last remaining intact ecosystems and original cultures in all of North America. Palin is also promoting off shore oil drilling and increased mining in sensitive areas of Alaska, all of which would have a lifespan of far fewer years than my grandfather walked on this earth and which would not even make a smidgen of an impact on national consumption rates or longer term sustainability. McCain was once a champion of protecting the Arctic National Wildlife Refuge and it is sad to see, that with Palin on board, he is no longer vocal and perhaps even giving up on what he believes in to satisfy Palin's position.
Isn't it strange that the woman who claims to love the outdoors also chants "drill, baby drill" ? As Peter points out, "Palin also chose not to mention the connection between oil development and global warming, which is wreaking havoc on Alaska Native villages." And does it make any sense that the Governor supports hunting and fishing for sport, but not for subsistence and tradition?
Palin's Poor Record on Alaskan Native Issues
[Talk Left]
An Alaska Native Speaks Out on Palin, Oil, and Alaska
[Organic Consumers Association]
Photo via Field & Stream