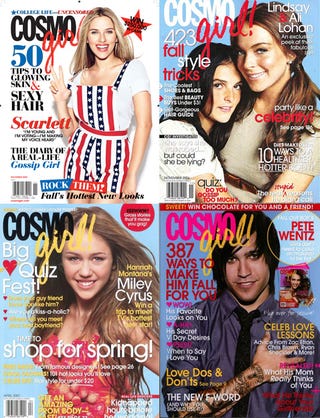 Today it was
announced
that
CosmoGirl!
is folding. Hearst has decided to "consolidate its teen publishing activities into
Seventeen
," though the
CosmoGirl!
brand will continue online. Founded by Atoosa Rubenstein in 2000,
CosmoGirl!
was the smarter, less sex-obsessed little sister of
Cosmopolitan
. Atoosa supposedly came up with the idea of
CosmoGirl!
in 48 hours,
reportedly
scrawling the word "girl" in lipstick over and over on mockup covers while in bed with her husband. (She became the youngest editor-in-chief in Hearst Magazine's 100 year history, but left for
Seventeen
in 2003.) As for
CosmoGirl!
, the splashy, colorful magazine managed to cram everything teenage girls really care about inside each issue:Celebrities, fashion, hair, makeup, college, finances, love advice, dealing with social pressure and, of course, boys. What made
CosmoGirl!
different from, say,
Seventeen
, was its "EyeCandy" feature: Fold-out, locker-sized poster pages of shirtless hunks, often on posing on a beach. (Sounds smutty, but the guys almost always listed their favorite book as "the Bible.") And even though
CosmoGirl!
reveled in photos of bronzed, broad-chested dudes and tips about eyeliner, the magazine also had something called Project 2024, an initiative to encourage readers to think about a female president (ostensibly a
CosmoGirl!
reader) by the year 2024. Project 2024 included interviews with with successful people like Richard Branson, Martha Stewart and Robert F. Kennedy, Jr. (the current issue features congresswoman Carolyn B. Maloney) as well as internship and career advice. Though it entered the market at a time when the teen culture was booming, the newsstands were already crowded:
J-14
,
Teen People
,
Seventeen
and
Teen
were pulling readers, in addition to fanzines like
Bop
and
Tiger Beat
. (Later,
CosmoGirl!
would compete with
ElleGirl
and
TeenVogue
, launched in 2001 and 2003, respectively.) But what
CosmoGirl!
always had going for it was its dead-on mix: The magazine was silly
and
serious, shallow
and
thoughtful, with eating disorder advice right next to guy quizzes,
denim layouts
and musings about
religion
. Because that's how teenage girls
are
: Seemingly at odds with themselves, a little bit of this, a little bit of that, unashamed to gawk at a barechested boy
and
dream about running the country.
CosmoGirl To Close
[WWD]
Hearst Closes CosmoGirl
[AdAge]
Hearst Closes CosmoGIRL!
[Jossip]
Hearst Folds 'Cosmogirl'
[Portƒolio]
'CosmoGirl' Folds
[NY Mag]
Hearst closes CosmoGirl
[Crain's] Related:
Atoosa, Former High School Loser, Is Hearst's New Cosmogirl Queen
[Observer, 2000]