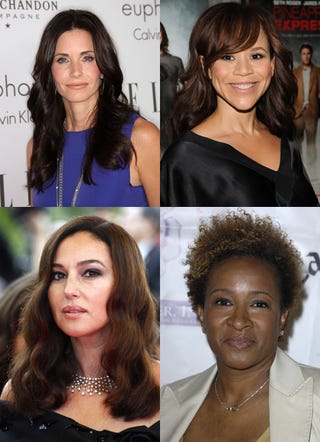 A new survey out of the UK has shown that more than 75% of women questioned said that they
feel sexier when they are confident
. I know, I know:
Duh
. But the survey also found that 80% of women would like to be
more
confident. And even though people seem to think that the 20s are these fun, carefree years, it seems that confidence actually peaks at 18, then dips for a bit, only to rise up again at age 30. According to the survey, the 30s are a mixed bag, but confidence peaks
again
at 40. Then, after 44: No confidence. Nothing. The women who participated in the survey felt that "life was over" by the age of 44.Obviously this is not true. Life is not over. Plenty of amazing women — Susan Sarandon, Joan Collins, Maya Angelou and Hillary Clinton — do amazing things, at ages higher than 44. I asked my mom how she felt at 44 and she said, "I thought the world was mine! I felt that life was going through a wonderful beginning." Sandra Bullock is 44! So are Monica Bellucci, Courteney Cox, Janeane Garofalo, Melinda Gates, Teri Hatcher, Debi Mazar, Mary Louise Parker, Rosie Perez, Wanda Sykes, and um, Sarah Palin. And in any case, this stupid survey was conducted by Bodyform, a company that makes
sanitary pads
. So. Can we just take some time to talk about women who
don't
think life is over at age 44? We
must
have readers who are over the age of 44 who are proud of things they have done, and looking forward to the years ahead. Or readers who
know
vibrant women over the age of 44. Testify; we'd love to hear from you.
WomenFeel That 'Life Is Over' At The Age Of 44
[Telegraph]
Why Life Doesn't Begin At 40
[Daily Express]