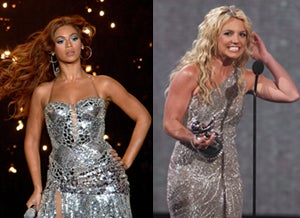 Beyonce's new song, "If I Were a Boy,"
premiered today
, and while I'm impressed that the title is grammatically correct, I'm bothered by the fact that song is likely to be perceived as pro-female because it paints men in a terrible light. Just like Britney's
"Womanizer"
, which has been described as
"empowering"
, "If I Were A Boy" shows men as callous, unfeeling shysters who will take you for granted, make out with your sister and then steal your dog.Here's the chorus of Beyonce's new jam: "But you're just a boy/You don't understand…How it feels to love a girl someday…You don't listen to her/You don't care how it hurts/Until you lose the one you wanted/Cause you've taken her for granted." Somehow, Britney's song manages to have even less depth: "Lollipop/Must mistake me as a sucker/ To think that I would be a victim not another/ Say it play it how you wanna/ But no way I'm never going to fall for you/ Womanizer." Certainly, there are songs that have worse messages for women, and it's not really logical to expect pop songs to pack a whole lot of nuance or lyrical complexity, but it bugs me that a message of empowerment through pop is usually delivered through the denigration of men. What about Christina Aguliera's "Beautiful" or Pink's "So What" or even Destiny's Child "Independent Women"? Can't we all just get along!?
If I Were A Boy
[Z100]
Britney Spears 'Womanizer' Video Details Emerge
[Popdirt]