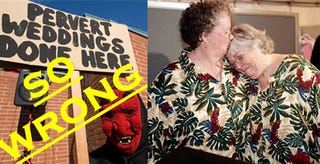 As many of you probably already know, Californians will take to the polls this year not just to decide to whom their electoral college votes will go or whether to remove the first female Speaker of the House in favor of
gadfly and spotlight-addict Cindy Sheehan
. They'll also be deciding on the fate of same-sex marriage. Opponents of the state Supreme Court decision allowing homosexual couples marriage equity have on the ballot a measure,
Proposition 8, that would amend California's constitution and re-illegalize same-sex marriage
.As one might imagine, anti-marriage equity organizations,
such at the Mormon church
, are blanketing the state with money and advertisements to make sure the Dreaded Gays can be denied their equal rights once again as their bigoted vision of God supposedly intended. And, if you thought money spoke louder than social justice in D.C., well, you ain't seen
the latest poll numbers on Prop 8 yet
— because that anti's money is screaming really fucking loudly. Two polls in the last week — one by Lake Research and one by Survey USA — show Prop 8 winning (and equal rights losing) 47 to 43 and 47 to 42, respectively. The
No on Prop 8
spokespeople believe that the unexpected results have something to do with the complacency of those who would be expected to support equality and a barrage of television ads against the measure that seem to be swaying younger voters. Although they expect the pro-discrimination groups to spend up to $26 million on television advertisements in order to foist their religious beliefs onto the populace, groups like No On Prop 8 expect to match them on advertising money and think that at least 20 percent of the electorate is either undecided or keeps changing its mind. So, a little good news on a bad news day, I guess. On the surface, it seems so strange that a state in which the latest polls have
Obama up by 16 points
would be moving so quickly in the direction of inequality and intolerance. But, then, it's probably important to remember that neither Barack Obama or Joe Biden actually supports marriage equity. In fact, scroll through the issues on their site and you'll see no mention of same sex marriage rights in the sections on
Civil Rights
,
Faith
or
Family
. I've
recently said that I think the Democratic Party should stop pandering to the forces of intolerance on this issue
, but let me go one step further. Barack Obama, Joe Biden and the Democratic establishment are signing off on Democrats voting for Prop 8 by pandering to the voters who they think will vote against them if they support ending discrimination against homosexuals. If Democrats flock to the polls for Barack Obama because they are inspired for him — and, if the primaries were any indication, they will — they could be inspired to vote against Prop 8 and against ending the extension of civil rights to same sex couples. Marriage in this country, as in every country, is a legal institution more than it is a religious one — try telling me more people aren't
legally
married than are married in the eyes of a religious order, especially given that the Catholic Church doesn't recognize the second marriages of divorcees — and it confers upon those that enter into the marriage
contract
certain rights and certain responsibilities under the eyes of the law. It's a government-sanctioned, government-recognized contract. In last night's debates, Barack Obama called out George Bush for squandering an opportunity after 9/11 to call the American people to service and sacrifice by instead calling on them to shop. Barack Obama is asking us to put him in that same position after November 5th. I'm just hoping that he doesn't squander it either, not on this issue.
Same-Sex Marriage Defense On Red Alert
[EDGE Boston]
LDS Church Taking Position On Gay Marriage
[KIDK]
California: McCain vs. Obama
[Real Clear Politics]
Just Folks
[BloggingHeads] Related:
Barack Obama Campaign Site
No On Prop 8