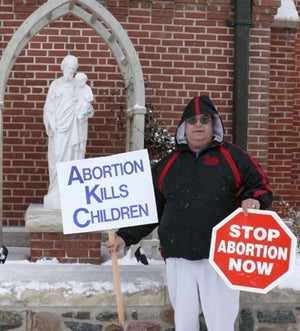 We've been so focused on the possible annihilation of our abortion rights from the Republican Presidential ticket that perhaps we've lost sight of the choice battles occurring at the
state
level. On November 4, South Dakotans will not only be voting for a President, they'll also be voting on
Initiated Measure 11
, a ballot measure that would essentially outlaw abortion except in cases of rape, incest, and what the
Washington Post
refers to as "a narrow interpretation of the health and life of the woman." As it is now, there is only one abortion clinic in the entire state, no local doctors will perform abortions so physicians must be flown in from Minneapolis, and, before they're allowed to get an abortion, women must be read a statement that refers to fetuses as
"living human beings"
.Even though, superficially, Measure 11 would allow women
to get abortions
in cases of rape or incest, in practice it would still be incredibly difficult for survivors of such crimes to terminate their pregnancies. Jan Nicolay of the Campaign for Healthy Families tells
Salon
that the wording of Measure 11 is so complicated, it would be nearly impossible for women to get legal abortions. "The physician would almost have to get a legal opinion before taking any steps to help the victim of a rape or incest situation. That's how difficult they are to understand. They aren't intended to be real exceptions," she says. In other sad choice news, our favorite abortion blogger
What To Expect When You're Aborting
has set her archive to private because other bloggers merely
suspected
of writing her blog
have received death threats.
"[I]f you're some malevolent troll who is beating up on people's families because of this you need to step the fuck off. that is some deranged shit — you know how you are," she writes. She's currently figuring out the most prudent way to proceed, and a later entry says, "The coppers and safety servers are involved," so hopefully the full archives will be back soon. There is a single bright side: the Missouri Supreme Court
upheld a law
earlier this week that allows female prisoners unfettered access to abortion. That's little solace when South Dakota anti-choice advocates like Rev. Steve Hickey are telling the
Washington Post
that God has
personally
chosen South Dakota to challenge Roe. "He is giving the nation a window of opportunity to address this. He's picked the state that can pull it off," Hickey says. I second the sentiments of a commenter on the
Nation's website
: "Well, I was chosen by God to call Rev. Hickey an opportunist. How you like them apples?"
South Dakota Ban Is Back
[Salon]
S. Dakota Readies Again for Abortion Fight
[Washington Post]
I Am Spartacus
[What To Expect When You're Aborting]
Supreme Court Refuses Missouri Abortion Rights Appeal
[Feminist Majority Foundation]
S. Dakota Goes After Choice (Again)
[The Nation] Earlier:
Court Rules In Favor Of Calling Fetuses "Living Human Beings"
Blogging An Abortion: "Precious, Silver-Tongued, Knocked Up 16 Year Olds Where Are You??"