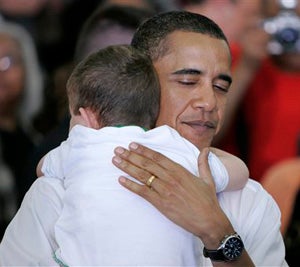 Fox News would like you to know that "facts are not irrefutable." Man, they really are just becoming the Ministry of Truth. [Huffington Post]
The media would like you to know that they might get cussed out by Republicans at Palin rallies all the time, but it's much rarer that anyone uses racial slurs. Rare is good. It's just not as good as "not at all." [Politico]
Oh, and if McCain would like to keep talking about Bill Ayers — and he does — he might want to check out the former lyncher and heroin trafficker, James Fowler, he used to be associated with. And then he might want to shut the fuck up. [The Anniston Star, via Andrew Sullivan]
By the way, a federal judge ordered the release of 26 Chinese Uighurs from Gitmo because the evidence against them is unreliable and the government decided to hold onto them anyway. [Washington Post]
Which is sort of the only good news because the Dow lost another 500 points today. [NY Times]
Well, that and I'll be live-blogging tonight's Presidential debate. The thread starts at 7:30 ET, my liveblog starts just before 9:00 ET.