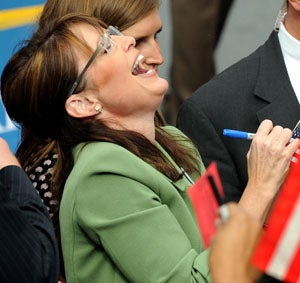 News of National Organization for Women L.A. President Shelly Mandell's endorsement of John McCain, but especially Sarah Palin , is blowing up all over the blogosphere. You might wonder how a woman who helped organize the March for Women's Lives , the thousands-strong pro-choice rally in 2004, has, four years later, decided that women's lives aren't that important after all.According to ABC News , while introducing Governor Palin at a rally in California over the weekend, Mandell said, "I'm a life-long Democrat ... I don't agree with Gov. Palin on several issues…I know Sarah Palin cares about women's rights, she cares about equality, she cares about equal pay, and as Vice President she will fight for it. She cares about our children and she cares about women's lives. She's an athlete and she knows what Title Nine did for girls like her." How, pray tell, does Palin "care" about equal pay when her running mate vocally opposed a recent fair pay act ? She cares about it by…playing basketball in college? Of course, Mandell is an individual who can endorse whomever she pleases, but the NOW brass are understandably furious that she's used her position to support a ticket that stands against some of NOW's most basic mission statements. California NOW president Patty Bellasalma issued a statement after Mandell's public support of Palin: "The use of Shelly Mandell's Los Angeles NOW title was apparently intended to mislead the public, and indeed has resulted in local television outlets and internet reports misstating that LA NOW has 'endorsed' Sarah Palin or that she has a record of supporting women's rights. This in fact is not the case," Bellsama said. "I can assure you that there is no local or state affiliate of NOW, including LA NOW, which endorses or supports the McCain/Palin ticket. John McCain and Sarah Palin oppose many of the rights and freedoms we have fought for throughout NOW's 42 years, and we will not be pushed back to the days of back-alley abortions, forced pregnancies, and pay discrimination without remedy." We were curious about this Mandell character and so we checked to see if her previous stances could somehow explain her vocal support for the McCain-Palin ticket. In September, 2003, she went on CNN to decry the gubernatorial candidacy of Arnold Schwarzenegger because of some anti-woman comments Arnold had made. "He's obsessed with body parts. I really don't think that he gets it, that women are human beings that are more than their body parts," Mandell said. But John McCain truly thinks women are more than just body parts, like that time he called his wife a cunt. In addition, Mandell donated $500 to Clinton during the primaries, and has perhaps bought into the idea that all that matters in a candidate is their genitalia. Even curiouser is this little tidbit from Mandell's past: in the early 80s, Mandell secretly alerted police so that her NOW rival, Ginny Foat , would be arrested. Here's the story. Foat was a rising star at NOW, but she had a sordid past that included her second husband (who beat her) being arrested for multiple murders. This ex-husband, John Sidote, told police that Ginny was his accomplice, and as a result warrants were issued for her arrest. According to the New York Times :
Despite having spent three months in jail while she unsuccessfully fought extradition to Nevada (Mr. Sidote eventually refused to testify against her there when advised his testimony would not assure him leniency) and without even checking whether the Louisiana warrant for her arrest was still extant, Mrs. Foat could still launch a campaign for the national vice presidency of NOW in 1982. Rather than face the authorities to clear up the matter, she had a paper prepared on battered women to hand out to the press. MRS. FOAT might never have been arrested at all a second time (on the Louisiana charge) had she not been betrayed by a former close friend in NOW, Shelly Mandell, who told Miss Hawkes she agreed with others who thought Mrs. Foat was on ''a power trip.'' It was Shelly Mandell - who insisted she only wanted to appoint Mrs. Foat to a local governmental board - who secretly wrote to Louisiana authorities and alerted them to Mrs. Foat's identity. At the time, Shelly Mandell and her close friend Elaine Lafferty were feuding with Mrs. Foat and her close friend Kay Tsenin. Significantly, Shelly Mandell and Elaine Lafferty were also with Mrs. Foat on the night she broke down sobbing and confided to them about her life with Mr. Sidote.
That's the curiousist of all! Btw, in this situation Gloria Steinem sided with Foat, calling her "a political hostage." When she was stumping for Palin, Mandell said she was "proud to support Sarah Palin, a woman who will fight for women's rights…a woman who will, Lord knows, shake things up." Apparently Mandell supports shaking a lot of things up, including her own completely malleable belief system.
LA NOW Prez On Palin: 'America, This Is What AFeminist Looks Like'
[ABC News]
Behind The Scenes At The March for Women's Lives
[Salon]
Sororocidal Warfare
[NY Times]