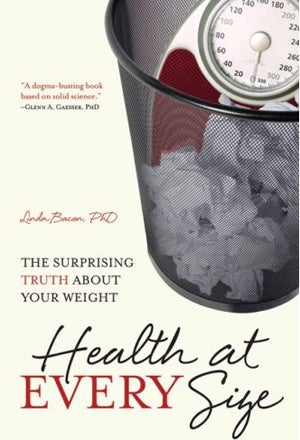 A new book out later this year by nutritionist Linda Bacon,
Health at Every Size
, espouses a philosophy long held by many
fat activist blogs
: that the number on the scale has
little to do with overall health
. According to yesterday's
New York Times Magazine
, Bacon's book advocates self-love regardless of size, and "is less about dieting than a lifestyle change that emphasizes 'intuitive eating': listening to hunger signals, eating when you're hungry, choosing nutritious food over junk. It encourages exercise, but for its emotional and physical benefits, not as a way to lose weight." This all seems like common sense, but the
Times
points out that many programs like Weight Watchers claim to be about lifestyle and not weight loss, and yet WW "still tracks weight loss down to the decimal point."Bacon's research has shown that the "Health at Every Size" approach is more effective than weight loss as an ultimate goal. She ran a trial where half the women were in a HAES group and the other half were in a traditional, weight-loss focused dieting group. While the HAES group did not lose weight, the
Times
notes, "their healthier behavior led to lower blood-pressure and cholesterol levels, which stayed low even two years later. In the weight-loss group, more than 40 percent dropped out before the six-month low-calorie diet ended, and at the two-year follow-up, the average dieter had regained all her lost weight, and the only measurement that dropped was one for self-esteem." Low self-esteem can be a big problem for obese women who are attempting the HAES approach, as
a new study
presented at the Obesity Society's annual meeting shows, many very overweight women avoid exercise because they feel self-conscious about working out. Another weight-oriented study, this one involving tweens, shows that heavy girls aged 9-13 who read a book with an
overweight heroine
lost more weight than girls who read a book without weight themes.
Time
reports that the girls who read
Lake Rescue
, a novel "whose protagonist is an overweight preteen who struggles with low self-esteem, feelings of isolation and teasing because of her size," lost .71 from their BMI, while those who read the non-weight oriented
Charlotte in Paris
lost only .33 from their BMI. The heroine of
Lake Rescue
ends up learning to make healthy food choices and embrace physical exercise. Even though these girls lost weight, it seems that presenting them with a heroine who is ridiculed because of her size is not an ideal way to get them to eat healthily. Like 12-year-old girls don't have enough shit to deal with; maybe they should be getting Linda Bacon's book instead.
Losing The Weight Stigma
[NY Times]
Obese Women Face Many Exercise Barriers
[UPI]
Can Reading Help Kids Lose Weight?
[Time]
Health at Every Size